Custom Product Labels Give Pet Brands a Purr-fect Look
[caption id="attachment_7667" align="alignleft" width="300"]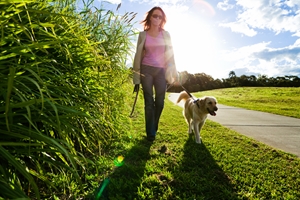 Consumers seek specific qualities when reading custom product labels for pets.[/caption]
Lightning Labels, custom label and sticker printing leader, is excited to explain how custom product labels can flaunt the qualities pet owners seek out when shopping for their fury friend.
When it comes to the bond a person shares with his or her dog, cat or other pet, it's important to note how central a role these animals play in the lives of their owners. People consider their pets a member of their family and they want to take care of them in the best ways possible. That's why consumers are more than willing to seek out the best products for their animals. As such, manufacturers can effectively target pet owners with custom product labels that not only cater to shopper needs, but also set the brand apart from the competition.
"The market for pet products is a large and diverse one," said AnneMarie Campbell, Business Development Manager at Lightning Labels. "Brands have to work extra hard to stand out if they want to develop a strong, loyal fan base. That's why they should invest in the best marketing strategies. Packaging products with attractive and durable custom labels can not only reel in consumers, but show them how the brand contributes to a happy, healthy life for their pet."
Easy Product Label Printing Makes Embellishing Goods a Cinch
Whether pet companies are designing labels for the first time or have been around for a while and are looking to revamp their image, Lightning Labels' product label printing is an easy and affordable way to create the perfect product packaging.
As mentioned above, pet owners look for specific qualities in products, including healthfulness, ease of use and portability. With myriad label fonts to choose from, brands partnering with Lightning Labels can select the perfect text type for their items. In addition, digital label printing allows users to include small, but legible and aesthetically pleasing text on their packaging to ensure consumers get the information they need.
Design Labels for Products that Stand Out
In addition to demonstrating a brand's quality, labels for products also make items stand out in stores and online. Lightning Labels offers a seemingly limitless selection of colors to choose from and can include images of all kinds on product packaging to ensure brands' design options are versatile and endless.
Lightning Labels regularly offers special promotions and discounts. Visit Lightning Labels on Facebook for more information and to find any current promotions for custom product labels and more.
Request your FREE instant quote today.