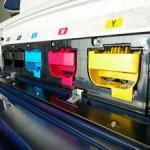 Printing ideal product labels for your company's needs means making important choices.
You have to select the perfect text and imagery for the labels, but the process goes deeper than that. You also need to determine which material and finish will give your labels the right look and feel. Then there's the matter of deciding how to print the labels, whether it's better to use a traditional flexographic label printing method or go with digital label printing. This decision can determine what's possible for your brand's packaging.
Once you've learned the differences between printing styles, you can make an informed decision to suit your requirements.
What Is Flexographic Label Printing?
Flexographic printing is the traditional method of printing images using large mechanical printers. Plates, made from artwork printed on film, pick up ink and distribute it on the label material to create the finished product.
While this method has a long history in packaging creation, the mechanical elements of it could clash with the way companies create their product labels today. For instance, every different label design you commission for your products requires a set of flexographic plates, and creating those plates costs money. If you only need a small print run, the upfront expense of plate creation may hit your budget hard.
What Is Digital Label Printing?
Digital label printing is a newer method of image reproduction that does not involve plate creation. Images are uploaded to a digital system and printed directly, going from the computer straight to the press. It's possible to change designs without creating a new plate in digital printing, taking away the upfront investment and time that comes with a flexographic printing job.
Companies that like to create multiple label designs - or employ unique labels that each have different data - will likely find this method economical and convenient, as will small businesses that want to order few labels at once.
Why Does Lightning Labels Offer Digital Label Printing?
Lightning Labels aims to create a convenient and customer-friendly printing experience. Today, this means using high-quality digital presses. Quick turnaround times, easy customization and flexible order sizes are a few of the benefits Lightning Labels clients have come to expect, and these would not be possible with flexographic printing.
When your company needs a new set of custom labels quickly, whether the order is large or small in size, and no matter how much variation you'd like in the batch, Lightning Labels' all-digital processes can get you the results your brand needs.
Request your FREE instant quote today.