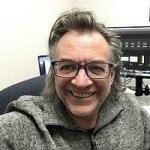 Lightning Labels' Senior Graphic Designer Don Alles became interested in the visual arts at an early age. He notes, "I've always been an artist, painting and drawing. Ultimately, I studied commercial graphic design and have been doing it ever since."
When not creating artwork, Don creates music, spends time with his family, and enjoys mountain biking and skiing. A longtime musician, singer and songwriter, he continues to perform with an Americana-style band called Scarecrow Revival at Colorado front range venues. "We play mostly original songs, and have appeared at many breweries. Now, with the pandemic easing, we're ramping up in new venues. We recently played on a patio for the first time in months."
The Colorado native and his wife, Theresa, have two children, one in college and one in high school. Two chihuahuas round out the family.
Don, a longtime print design and printing specialist, joined Lightning Labels in response to client inquiries about in-house graphic label design capabilities.

He has extensive print-related experience. Besides graphic design, he's worked in prepress and bindery, operated a digital web press and four-color Heidelberg quick press, and served as a Production Work Flow Manager. That diversity of experience comes in handy to understand all issues involved in printing and fulfilling high-quality label orders.
Don also is well-versed in digital design. Prior to joining Lightning Labels, digital design projects ranged from designing a website for a lobbyist group at the Colorado State Capitol to trucking company promotion and communications efforts.
He does a deep dive with clients to determine their preferences and tolerances before starting the design process. "I read the room. A big part of my job is to tap into client decision-making processes and how to help create a great-looking label. I'm working for them, and am invested in their satisfaction and retention," Don says.
He adds, "Some clients want to explore a wide variety of options, looks and effects. Others know exactly what they want, so I create it the way they want it—with suggestions as warranted along the way. There's no one-size-fits-all when it comes to graphic design and its relationship to printed labels."
Request your FREE instant quote today.