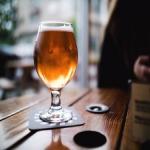 The craft beer market is both a very active and a highly competitive industry. When you're launching a new product, you can't skimp on any of the details when it comes to presentation. In practical terms, this means you should put plenty of time and effort into thinking about the bottle or can your beer will come in.
The beer space is filled with interesting and vibrant designs. You won't be able to rise to the top by doing something people have seen before. Custom beer label design is all about putting your brand identity — the things that make your brewery unique and compelling — on the side of a bottle for the world to see. So how do you get started?
What Makes Custom Beer Labels Different?
The best thing about being original in your beer label design is that, if you have a strong sense of brand identity, it will come naturally. It can help to look at galleries of ideas that have worked well in the recent past, not to copy them but rather to see just how different they all are. Take October's picks for top 2020 beer label designs, for example. On this list, you can find dreamy line drawings of nature, bold cartoon characters, extreme minimalism, a romantic design made in collaboration with LGBTQ+ artists and much more.
The things that make your custom beer label different will be the defining traits of your brand. Are you proud of your region? Do you want to communicate something about your brewing process or the flavors you've created? Is there a cause you're passionate about or an aesthetic that has guided your decisions? Any of those can inspire a beer can design. It also pays to remember that design goes beyond graphics. Your choice of label material and finish can determine whether your cans have a smooth, modern matte feel or a tactile roughness to them, complementing the art.
What to Consider with Custom Beer Label Design
Of course, creating custom beer label designs for your craft brewery is about more than the "fun parts" of graphic design. You also have to make sure your labels have the appropriate warnings as defined by the Alcohol and Tobacco Tax and Trade Bureau.
Labeling requirements include details such as your brand name, alcohol content by volume, the amount of beer contained in the bottle and can, and the government's health warning.
You also have to decide whether to sell your beer in bottles or cans, or even in less common container sizes and shapes such as growlers. While at the beginning of the craft movement, beer bottles were associated with independent breweries and their high-quality products, beer cans have struck back in recent years. Witness Hop Culture's best of 2020 design list, consisting of nothing but cans. Each type of container gives you a different shape and amount of space to work with, so the decision should come early in the design process.
When it's time to make craft beer labels that express your company identity and stand out on store shelves, you can partner with Lightning Labels. Our all-digital printing methods enable us to create high-quality labels quickly, with flexible order amounts enabling you to get the packaging you need without overspending. Whether in a bottle or can, your beer is ready to meet the world.
Request your FREE instant quote today.