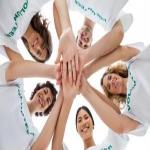 While there's no wrong time for people to volunteer their services to charities and nonprofit organizations, April is an especially prominent month for attracting these altruistic individuals. National Volunteer Month is a support to those who give time and effort to good causes. Organizations hoping to use the month for a major recruitment drive may find custom stickers and other kinds of visual content are effective means of generating attention.
Bumper Stickers Draw Eyes
The versatility of bumper stickersbumper stickers is belied by their name. People can put these custom stickers on any hard surface, and it's easy to imagine a decorated laptop, for instance, carrying an organization's message far and wide. Charities and nonprofits can use bumper stickers as a giveaway to those who volunteer or to attract new recruits. Ideally, these stickers will do both: When current contributors put the stickers on their cars or other property, a new generation of volunteers could be attracted to the cause.
Volunteering time and effort is an unselfish act and something to be proud of, so it's natural that some people will want to share their excitement about their favorite causes. Handing out bumper stickers gives these individuals an easy outlet for their feelings of accomplishment and enthusiasm. National Volunteer Month is a perfect time to distribute these giveaways and to launch an active search for the next generation of contributors.
April is Almost Here
With National Volunteer Month quickly approaching, you may be asking whether your charity or nonprofit can get custom stickers for this year's event. Lightning Labels takes the tension out of the ordering process by using all-digital processes and shipping from domestic facilities. These techniques allow custom stickers and labels to ship out in a matter of days, rather than weeks or months. Sticker-based volunteer celebrations and recruiting strategies can begin this year, instead of waiting for the next National Volunteer Month.
Request your FREE instant quote today.