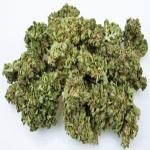 As various states roll out new laws legalizing the medical or recreational sale of cannabis products, new opportunities are opening. If you're one of the entrepreneurs exploring this exciting new space, there are a few important rules and guidelines to obey. With the market growing and consumers visiting to find out what these products are all about, it's time to make sure your business is ready for prime time with custom cannabis labels and stickers.
Even a few years ago it would have seemed fanciful to have a functional recreational cannabis industry gearing up for the pot-themed holiday of 4/20, appropriately held on April 20. Now, in places across the country, this scenario is playing out. Your company can use this date the same way a chocolatier treats Valentine's Day or Halloween - as a prime season to prepare for, and when your offerings should be at their best.
Custom Cannabis Labels and Stickers Are Essential
As with all heavily regulated industries, businesses in the cannabis space must navigate between compliance and promotional muscle. You must stay constantly aware of the changing rules affecting your state of operation. Due to the early, exploratory nature of the cannabis industry, it's common to see revised laws come into play. Each one of these changes may prove relevant to your organization, with new label warnings being some of the most talked-about adjustments made by state legislatures when reviewing their statutes.
The custom stickers and labels you choose for your items should be available in small batches to ensure you don't have a large backlog of surplus in the event of a regulatory change that invalidates your old design. Of course, once you're done dealing with the requirements of compliance, your next job is to make the packaging look good. Recreational cannabis has the potential to be a competitive field, so you should be ready to impress your audience.
An Experienced Provider Can Help
Cannabis labels are a relatively new industry, but Lightning Labels has been operating in the field for over a decade. Since the beginning of the medical marijuana era, we've been a go-to source for businesses that want to ensure their product lines mix legal obedience with a compelling and eye-catching look.
Depending on the state, cannabis products can take a variety of forms. Lightning Labels' wide range of offerings will help you, no matter what form your particular items take. Edibles, beverages, oils, topicals and more combine to make up a spectrum of possible products. Lightning Labels will help you find custom warning and safety labels that are the right size and shape for any packages you use, getting your brand in compliance and making the items look great on shelves.
Ordering cannabis product labels can be quick and easy when you work with the right provider. By using all-digital printing methods and operating from domestic facilities, Lightning Labels has optimized order turnaround times. You can get your new labels by 4/20 and put out an impressive spread of compliant and attractive products for the public. This speed and efficiency will help you in future, as each legal shift will likely demand a revised label design.
Request your FREE instant quote today.