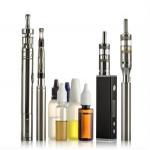 The vape and e-cigarette market is an exciting space, much newer than many other consumer goods markets. This freshness means the best practices of vaping product sales are still evolving. In addition to the great potential and energizing spirit of this commercial environment, there are also plenty of legal requirements to understand and keep in touch with as they change. If your business operates in the e-cigarette market, the Midwest Vapor Expo is a great place to get information and inspiration that will carry your company through the year ahead.
This April 21 and 22, you can take a day or two out from actively running your business and discover the wares of over 100 fellow companies on the expo floor. You can strike up partnerships that will help your company uphold the two pillars of being a successful vape product brand - compliance with laws and distinctive, bold branding. Lightning Labels is one of these vendors, and our representatives can be found at booth 2113 at the IX Center in Cleveland, Ohio.
The Value of Industry Expos
Seeing other companies from your field in person can serve as a great way to discover your competition's practices and make connections with vendors that can help you excel. The Midwest Vapor Expo is one such melting-pot gathering, taking place over a weekend and bringing together both brands and consumers, all in the name of celebrating the new products being developed in the vape industry. The accessories and e-liquid bottles that consumers will want will be on sale on the expo floor, along with services that will take your brand to the next level.
Lightning Labels, which will be at booth 2113 both days of the convention, represents that latter side of the industry. Your products' ability to comply with industry rules and appeal visually to consumers will be determined by their appearance - and that means vape labels. Any products produced for the field, from e-cigarettes themselves to bottles of e-liquid, should have clear and distinctive branding that makes good use of your company's compelling imagery, while not neglecting necessary warnings or ingredient lists.
The Expertise of Lightning Labels
When looking for custom vape product labels, it can pay to work with a company that has been active in the sector for years. That's the kind of expertise and knowledge Lightning Labels offers. We've seen the industry grow from humble beginnings and have watched as regulations have changed and competition has intensified. Vaping has become a space defined by bold brands with bright and distinctive looks, and Lightning Labels' deep familiarity with the industry can help your brand stake out a place within it.
Vape product labels are available with quick turnaround times and small minimum order sizes, consequences of Lightning Labels employing all-digital printing processes and working from domestic facilities rather than outsourcing. When your company is ready to launch a new product or rebrand, Lightning Labels can be your ideal partner. Talk to our team at booth 2113 at the Midwest Vapor Expo or reach out to us online at any time to learn more.
Request your FREE instant quote today.