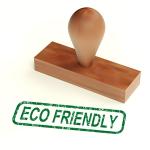 Celebrate Earth Day With Recyclable Stickers
Every year on April 22, people across the globe acknowledge Earth Day in a variety of ways, from planting trees to making sure the recyclable stickers affixed to the products they buy actually get recycled.
United States Senator Gaylord Nelson founded Earth Day in 1970 with the goal of making environmental protection part of the national political agenda. As a result, the United States Environmental Protection Agency was created and two pivotal laws were passed: the Clean Air, Clean Water Act and the Endangered Species Act. Over the past four decades, the movement has grown and evolved, spreading across the globe and taking new forms every year. In fact, according to EarthDay.org, it is the largest civic event in the world with more than 1 billion participants.
Do Your Part With Sustainable Packaging
You don't have to be a senator to drive environmental change - in fact, you'd be surprised by the size of the impact that switching to sustainable packaging can have, even for a small company. Think about it: Every item you sell is branded with a label, sticker or some other kind of packaging, and all those materials can quickly pile up. Of course, you want your custom labels and stickers to be high-quality, professional-looking and durable for the duration of your products' life span, but what about after that?
Why Use Recycled Labels?
The benefits of recycled labels go beyond helping to conserve the Earth's resources. Today's consumers are becoming more and more environmentally conscious, so letting them know that sustainability is important to your company might attract green-minded shoppers to your brand.
"Consumers around the world are saying loud and clear that a brand's social purpose is among the factors that influence purchase decisions," Amy Fenton, global leader of public development and sustainability at Nielsen, asserted in a statement. "This behavior is on the rise and it provides opportunities for meaningful impact in our communities, in addition to helping to grow share for brands."
Indeed the Nielsen Global Survey on Corporate Social Responsibility released last June revealed that more than half (55 percent) of online consumers are willing to pay more for goods if the companies from which they're purchasing are committed to making a positive social and environmental impact.
Request your FREE instant quote today.