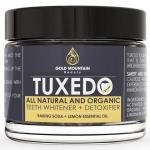 At first, the idea of using a natural teeth whitener containing coconut activated charcoal may sound a bit difficult to get one's…well, teeth, into.
But, Gold Mountain Beauty's mint tuxedo natural teeth whitener for sensitive teeth seems to be catching on with customers, along with the rest of an activated charcoal-based line of health and beauty products, including facemasks, natural shoe deodorizer and foot odor spray, and antifungal foot soak.
The journey to a line of health and beauty products began several years ago. Principal Daniel Thompson says, "Several years ago, I started to work in digital marketing. I built a small agency with a close friend offering digital marketing services (primarily SEO) to small and medium sized business…We believed we could build an e-commerce store ourselves and that's what we did.
Daniel takes pride in making his products—all containing premium ingredients—in the US. He also takes pride in his product development and marketing strategy, noting, "We get in early. If a product is trending we try to pick up on that trend before it becomes mainstream. A perfect example of this is Frank Body. They made the coffee scrub popular…there have been dozens if not hundreds of me too's but with the exception of a few early adopters they're all stuck on the outside looking in."
Relationship with Lightning Labels, the Health and Beauty Label Specialist
Packaging, e-commerce and Lightning Labels. The trio seems to mesh together seamlessly. Notes Daniel, "We believe our packaging is some of the best in our space. E-commerce packaging is a lot different than retail packaging. It needs to be a lot more robust than retail and often it's not as sexy. But you still want your product to look like a high-quality product. Labels and branding are a big part of that. We get all of our labels from Lightning Labels and love the quick turnaround times. And Lightning Labels rep Bianca is a Gold Mountain Beauty favorite."
Request your FREE instant quote today.