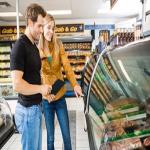 Obeying Food Labeling Rules
Companies that produce foods and beverages face unique product packaging demands, with a host of regulations to oblige before they even get around to aesthetic decisions. If your business operates in this area, you've already navigated the rules and gotten into compliance. However, in the years ahead, important changes are on the way. The latest announcements come from the U.S. Department of Agriculture, and have to do with the "sell by" or "use by" label - which has a new name, as well as the compliance dates for meat and poultry regulations.
Cutting Down on Food Waste
Food Processing explained that the USDA's recommendation - to implement a new "best if used by" label across the food production world - is designed to prevent waste. Today, different manufacturers use a variety of expiration date formats. These listings are voluntary for all products except infant formula, which requires the use of expiration dates. The new guidance is meant to ensure that wherever optional dating is employed, companies are working with the same vocabulary and format.
Faced with a patchwork of phrases, including "sell by" and "use by," consumers may be thinking of the listed dates as hard cutoffs for freshness, and throwing food away that is still good. Food Processing noted that by standardizing the use of dating systems, and employing the phrase "best if used by," the USDA is hoping to ensure that shoppers will be better informed. People will now gain the knowledge that products of a certain age may have degraded in quality, but aren't necessarily unsafe. A hard-seeming "use by" date encourages individuals to throw food out, which causes waste.
The recommendation comes after a period of research into the effects of different types of phrases. According to Food Processing, the USDA's Food Safety Inspection Service settled on the final wording because high rates of people get the intended meaning. Implementing a blanket description across the food world is a big moment for the industry, and it was important for the agency to make sure its chosen version of the label is helpful.
Meat and Poultry Compliance Dates
Another announcement from the USDA FSIS concerns the meat and poultry industries. According to Food Safety News, this release isn't about any one rule. Rather, it's a notice that any regulations applied to meat and poultry production in 2017 and 2018 will go into effect on the first day of 2020. This gives producers a minimum of two years to adapt and get in compliance, though the agency would rather companies change practices as soon as rules are added to the books, rather than waiting for the deadline.
The news source reported that the January 1, 2020 date will keep the FSIS in line with the Food and Drug Administration's labeling deadlines. Two years between announcement and implementation will allow organizations more than enough time to revise their labeling strategies. According to the FSIS guidance, a hard deadline for label changes is friendly to both companies and customers, as businesses won't have to change their labeling strategies too often, alterations which could lead to higher sticker prices.
Ready for Anything
The strategy you apply to your food labels will necessarily be impacted by regulations, but you don't have to worry about staying current in compliance, at least when you work with Lightning Labels. As an all-digital printing partner, Lightning Labels enables you to order relatively small quantities of stickers and labels for your products. This means no leftover or wasted labels when regulations change, and an ability to react quickly to any new regulations, getting well ahead of the deadlines. With a third party such as Lightning Labels on your side, you'll be able to stay ahead of the USDA's schedule rather than barely keeping up.
Request your FREE instant quote today.