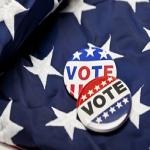 Custom Political Stickers Can Boost Any Campaign
With the presidential election coming up on November 8, the news has become saturated with political pitches from Democrats, Republicans and third parties in all 50 states. If you're in charge of promoting a local candidate or working to promote a major party in your area, it's crunch time. Reminding your party's longtime voters to go to the polls and winning over the eyes of undecided masses are tasks that deserve all-out effort. Bumper stickers are one of the tried and true methods you can use to put your candidate's name and party symbols out there.
Tough Bumper Stickers Look Great on Cars and More
When it's time to promote a campaign, you need multi-purpose materials that will get the message out there with bright colors and bold text. This is where bumper stickers come in. True to their name, these stickers look great on cars' bumpers, but they can go anywhere else, too. If you want to spread a candidate's name indoors, put them on personal belongings such as laptops or pin them to a bulletin board. Supporters can take these stickers with them wherever they go, making them a great campaign give-away.
With the election coming up, you likely have a few stipulations for sticker orders. You don't want to have to order too many, as they'll become historical relics on November 9. You also want to ensure they stick powerfully and don't fade so the ones you successfully give away look great in the run-up to November. Furthermore, you want to get your order immediately so the campaign can swing into high gear right away. These factors add up to one conclusion: It's time to work with Lightning Labels.
Lightning Labels' all-digital printing process is fast and allows orders with low minimums. This means you'll have your custom election stickers in hand within a matter of days rather than weeks or months. Plus, you won't have piles of overstock once people go to the polls. Bumper stickers from Lightning Labels are printed on tough white vinyl in brilliant full color, keeping your party's message looking bold and promising to potential voters.
Stickers for a Local Polling Station
Maybe you're a town election official rather than a political campaigner. If so, Lightning Labels can make your election day go a little more smoothly as well. Bold and patriotic 'I voted' stickers will act as great give-aways that let your district's voters show that they have done their civic duty. These election day stickers are a staple of the U.S. election ritual, so make sure you get them quickly and affordably.
Patriotic Flair Brightens November
Campaigns all over the country, both in local elections and the national contest, are ramping up. Polling stations are preparing to accommodate voters. Individuals are looking for ways to show their support of candidates and convince undecided voters. Stickers can be a great addition to the election season, adding a dash of color to all these scenes and more. If you're gearing up for November 8, be sure to think about custom stickers.
Request your FREE instant quote today.