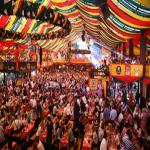 Spruce up Your Beer Labels with High-Quality Customized Beer Labels
It's that time of year again: The air is getting crisp, the leaves are getting ready to turn red and yellow, and revelers and brewers are anticipating Oktoberfest. If you're planning on selling a special batch of ale or lager for this annual event, you're in good company. Your challenge is making sure your brew stands out from the many others that will doubtless be available to your customers, no matter how close to or far from Germany you are. This is where high-quality custom beer labels enter the picture, making your brand unmissable.
Draw the Eye with Autumn Imagery
Oktoberfest and the fall season in general have ample great imagery that could look great on a beer label. Colorful images of Alpine villages or leaves turning orange could put purchasers in the mood for a refreshing stein of beer, positioning your brand head and shoulders above competitors that don't change their products' looks for the season. To make sure the images and text stay sharp even in cold fridges and when doused in condensation from the bottles, you should work with an experienced digital printing partner such as Lightning Labels.
Ensuring the labels fit on the bottles is another important consideration. Custom beer bottle labels should suit the shape of the products they'll be adorning. This is why Lightning Labels offers a variety of different sizes and configurations. You have a high level of control over multiple elements of the packaging layout, including which type of material best suits your needs. Whether the feel of a paper label or the toughness of a vinyl version is more appropriate for your brand, you'll find a good match. Furthermore, environmentally friendly options are available to add a little eco-consciousness to your brand.
When Oktoberfest is over, it'll be time for another seasonal brew, or perhaps time to settle into a year-round look for your brews. In either case, a new set of tough and visually appealing labels from Lightning Labels can give the line enduring appeal into the winter and beyond. Whether you prefer to change the branding frequently to draw fresh eyes or stake an enduring position with a consistent look, Lightning Labels can become a valuable packaging partner.
It's Not Too Late
It's not long until the first day of Oktoberfest. That said, it's not time to think about next year just yet - there's still time to get customized beer bottle labels before the festivities kick off. Lightning Labels' all-digital process enables rapid turnaround times and batch sizes that run the gamut. Whether you're interested in putting out a few bottles of beer for special events or a whole line of seasonal brews, you'll find an option that works.
For a brewery, there are few events that shine a spotlight on the industry the way Oktoberfest does. This is a great chance to get a name out there and reach new customers, an opportunity not to be missed. Custom labels are the transformational element that lets viewers know a particular brew is part of this season.
Request your FREE instant quote today.