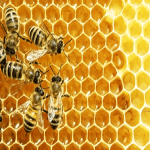 Promote Your Honey Brand Throughout September
Honey has many excellent traits - it is a natural sweetener, something people can add to their food when they want great taste without going heavy on sugar or chemicals. Promoting your brand to its highest potential may hinge on reminding customers of this natural goodness. There's no better time to launch such an awareness campaign than right now, because September is National Honey Month. Custom honey jar labels or stickers to complement your year-round designs can boost the perception of your brand and make September a great month to find new customers and re-energize past buyers.
Becoming Shoppers' Sweetener of Choice
Whether you distribute honey to national supermarket chains or sell it locally at farmers markets, you're always in competition with other brands. People won't typically take home many different bottles of honey and try them all. They'll pick the option that is most appealing to them while they're browsing the shelves. This is where jar labels do their work, using bright imagery and bold text to tell consumers that your honey is the freshest and most delicious brand of all.
During September, you can customize these food labels to ensure people know it's National Honey Month and decide to take a bottle home. Alternately, you can order a print run of eye-catching stickers and add those instead. Whichever path you take, it's good to select labels or stickers tough enough to survive the transit to stores and last on shelves for the duration of September. At the end of the month, it may be time to refresh your labeling strategy again, going with a message that works year-round, but is just as visually compelling.
There are many great images associated with beekeeping and the honey production field. Putting high-quality pictures of your hives, bees and honeycombs on new custom jar labels can remind people that honey comes directly from nature, rather than being produced in a factory. This is a food they can feel good about indulging in, whether they put it in their tea, use it to sweeten breakfast or use it as an ingredient in any number of recipes.
It's Not Too Late
While September has already begun, there's still time to make a great impact with new custom labels or stickers. Lightning Labels enables rapid turnaround, meaning your new labels will be in your hands in a matter of days, not months. National Honey Month is your big chance to stake a claim for honey as a natural food that brings flavor and fun to meals. By not letting the chance pass by, you may stand out next to other brands that don't change.
There are other advantages to picking Lightning Labels in addition to speed. As an all-digital printer, Lightning Labels also offers high-resolution imagery and extreme flexibility. If you have a small honey output and only need a limited amount of labels or stickers, you get what you're looking for. Unlike traditional printing methods that include high upfront costs, digital printing is economical for short print runs or orders that call for varied output.
Request your FREE instant quote today.