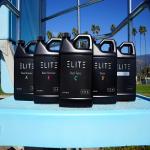 Elite Nutrient Line offers hydroponic garden growers the 'gold standard'
Offering cost-effective and simple nutrient systems for high-yield crops, California-based Elite Garden provides a gold standard to growers of everything from cannabis to corn. The Elite Nutrient Line, developed and manufactured in the golden state, addresses the needs of hobbyists and full-scale growers alike.
A braintrust consisting of biochemists, engineers and entrepreneurs founded Elite Garden in 2015. The team opened Ocean Hill Farms, a research and development farm, for their nutrient products. In 2017, the firm began co-branding with Ocean Hill Farms to launch a cannabis line.
Elite Garden's mission was to plug gaps in the nutrient process to create a standard of excellence. Previously, some critical nutrient combinations didn't exist. Others didn't deliver what they promised.
Cannabis opens up new opportunities Expanding cannabis legalization prompted Elite Garden to launch their cannabis brand. Notes spokesperson Patrick Borgerding, "In 2019, we have high hopes to fully round out our cannabis product offering. We'd like to add edibles, creams, tinctures and more."
Relationship with Lightning Labels, the custom cannabis label digital printing specialist Patrick points out, "With so many projects on the horizon, we're happy to have such a strong working relationship with Lightning Labels."
He emphasizes that the Lightning Labels custom cannabis label partnership "helps us navigate the crazy world of packaging in the cannabis industry. Lightning Labels makes many of our labels, tamper evident stickers and promotional materials. Our custom cannabis labels really pop. The foiled Tarantula labels and tamper evident labels all really come together to create a fantastic premium feel for our products. Our branding is one of our biggest assets and Lightning Labels helps bring it to life the way we envision."
Stability in a rapidly-evolving industry Patrick adds, "Working with Lightning Labels has been a valuable resource to our team. John has always been easy to work with and in an industry that is ever changing, it's great to have stable, friendly vendors. We've enjoyed our relationship with the sales team and have appreciated the quick turnaround on our custom cannabis label orders."
Request your FREE instant quote today.