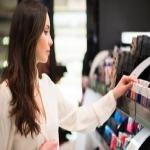 Market demand for cannabis-based health and beauty products is growing by leaps and bounds. Cannabis Business Times predicted a five-year growth rate of 214% for cannabis-based beauty and skincare topicals.
With new companies entering the marketplace every day, is your product ready for the competition? Are your cannabis health and beauty labels as premium-looking as they could be to stand out from the crowd? Here is some helpful information to get you started:
Mainstream Chain Outlets Opening Up
As legalization grows for cannabis and CBD, resulting in less stigma and more openness on the part of consumers, major chain retailers have been adding CBD products to store shelves. CVS, Walgreens and Sephora are some of the most notable chains coming onboard.
For those who purchase their products at dispensaries, Brightfield said a typical outlet could carry over 150 different branded products. While health and beauty products represent only a portion of that, it is still a lot of merchandise to sort through when shopping.
How To Get Your Cannabis Health Products Noticed
When it comes to health and beauty, there is a wide spectrum of possibilities for your custom cannabis labels, ranging from discreet and understated to trendy, high-fashion looks. Design Milk highlighted on its website a few of the stand-out brands that are changing the cannabis retail landscape with their attractive, attention-getting packaging. Design Milk noted that the cannabis design revolution not only includes packaging but also extends to industrial design and interior decor. Even the way a store presents itself translates to successful sales.
If you're designing cannabis health product labels, Packaging Digest suggests keeping in mind several factors that contribute to on-the-shelf visibility: green color and ethos, leafy imagery, a focus on health, minimalist design and playing with stereotypes (employing a clever play on words or hinting at the cannabis counterculture of previous years).
Other labeling steps you can take to achieve a more distinctive, premium look include:
Using gold or silver foil label stocks or metallic ink on conventional surfaces.
Considering unique typefaces - from thin, elegant sans serif fonts to stylish calligraphy or script faces.
Taking a cue from major fashion brands; give your cannabis beauty product labels a subtle, understated appearance that communicates luxury and mystique.
Employing extended content approaches to provide industry compliance labels - colorful, eye-catching branding on the surface, with required ingredient information and directions underneath the label.
Exploring other label stocks - transparent, eco-friendly, high gloss, water and oil-resistant to name just a few.
When you're getting your cannabis products ready for market, it's a good idea to consult a supplier like Lightning Labels, which has experience with custom CBD product labels and years of expertise creating the kind of hard-working, attention-getting labels that produce results in a competitive retail environment.
Request your FREE instant quote today.