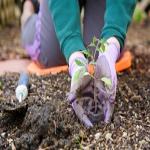 Eco-Friendly Labels On The Rise
As consumers portray more health- and ingredient-conscious shopping habits, a recent study found the number of eco-labels in the food industry is expected to increase in 2013.
Currently, there are more than 200 seals and logos on the global market that represent an ecological or ethical ingredient or sustainability attribute, according to the Organic Monitor. The research entity stated that "mushrooming" eco-labels has resulted in a $75 billion industry. More than 84 countries have introduced national standards for organic products, and most have organic logos. Whether for meeting fair trade standards or using organic ingredients, the makers of seafood, coffee and other food products are striving to meet global and local standards.
As consumers become more aware of the discussion surrounding genetically modified foods, non-GMO labeling is the fastest-growing eco-label in the U.S. food industry, according to the study.
Variety Of Certification Stickers and Labels Confuses Consumers Because advances in globalization make importing and exporting products easier and cheaper every year, U.S. consumers are exposed to to a variety of goods with labels boasting organic, natural and fair-trade ingredients. The variety of certifications and the lack of harmonization between the buzzwords could make it harder for consumers to distinguish what each term really means. This leads many shoppers to ignore certification labels or develop a skeptical attitude toward them.
Let Your Packaging And​ Nutraceutical Labels Give Consumers The Information They Need As certifications on nutraceutical labels threaten to lose their ability to reach consumers, the study suggests the importance of making your products' packaging clear and unique. Choosing a digital printing service can make the process of designing and ordering spiffed-up labels easy and affordable. Here are a three tips to make sure your nutraceutical labels are conveying the right information and not confusing health-conscious consumers:
1. Make Important Info Visible While certification logos help consumers understand the quality of products and the environmentally conscious decisions made during manufacturing, many shoppers may overlook these claims and avert their attention directly to nutritional content. Make shoppers' choices easy by providing clear information and highlighting the most important words.
Natural and organic ingredients should be in bold font to catch consumers' attention. In addition, because many eco-shoppers seek products that are healthy, it's a good idea to highlight fiber, protein, vitamin and mineral values.
2. Design Packaging That Reflects Your Product If your product falls into other ecological categories, don't limit the information on your nutraceutical labels. Consider using green, earthy hues and incorporating images of the plants or produce used to make your product into labels. You can also direct shoppers to nutraceutical information by including a phrase like, "All natural, just check the back!" on the front of the packaging.
To attract attention from even more eco-minded consumers, consider printing this information on eco-friendly labels, which are created from recycled, biodegradable and compostable materials, including BioStone, recycled kraft, vellum and EarthFirstPLA. What better way to show prospects that a business is focused on sustainability than using Earth-friendly label materials?
3. Educate Consumers Words and phrases like fair trade, organic, sustainable, eco-friendly and natural can seem like fluff to consumers who are fed up with unorganized certifications in the food, drink and supplement market. To help them understand what these terms mean, explain them on your packaging with visual components. For example, if eggs are labeled as free-range, the brand may consider adding an image of chickens in a open green space and a short sentence about the benefits of cage-free farming.
If you decide to include extra text, remember to avoid crowding your label, and use sentences that are brief, interesting and intriguing.
Request your FREE instant quote today.