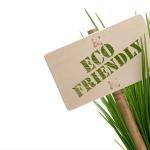 Increased consciousness of the ingredients and processes used to make products has been one of the major consumer trends of recent years. If your brand is focused on making earth-friendly goods, this may be a valuable selling point, provided you find ways to convey that information to customers.
Your products' labels are an ideal place to put this information. When shoppers are comparing multiple offerings in stores, they're looking for reasons to pick one over the others: Eco-friendly labels can push them toward your brand.
Win Customers' Attention
According to Nielsen research, consumers - across product categories and around the world - are interested in buying from brands that care about the environment. In fact, 81% of all people surveyed globally said they care about companies helping the earth. This strong preference can shape your approach to everything from materials sourcing to marketing messages.
Toluna reported that environmental awareness has reached more than half of the population, across all age groups - eco-friendly causes aren't just important to the youngest consumers. With that said, that age group remains the core audience for campaigns based around eco-friendly materials and processes.Among people between the ages of 18 and 34, 45% of respondents to the Toluna survey said they value goods that are made in green ways.
People care about restoring the environment where possible, and they see companies as holding a responsibility for ongoing green efforts.
Use Earth-Friendly Label Materials to Complete the Picture
When you print eco-friendly promises on your products' custom labels, customers will inevitably ask: What are those labels made out of? You should ensure your choice of label materials fits in with the company's overall green messaging. Recycled and biodegradable options are perfect complements to an overall earth-friendly approach to promotion. A message promising that a company cares about the health of the planet is simply that much more convincing when it is printed on a label that won't hurt the natural world.
When you work with Lightning Labels, you have several options once you've decided eco-friendly label materials. Recycled Kraft paper and vellum labels are made with entirely post-consumer content to minimize their impact on the environment. Biostone is another option that could deliver the results your company is looking for - made out of stone, this material does not require the use of trees or petrochemicals.
Winning over today's shoppers means figuring out what they care about and targeting those priorities. Lightning Labels has plenty of experience providing green label materials and can help you reach out to consumers who value conservation.
Request your FREE instant quote today.