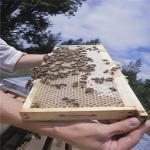 New EPA Custom Product Label Places Limits on Pesticide Use to Protect Honey Bees
Last week, the Environmental Protection Agency unveiled a new pesticide custom product label aimed at curbing the damage certain chemicals pose to honey populations.
"Multiple factors play a role in bee colony declines, including pesticides," said Jim Jones, assistant administrator for the Office of Chemical Safety and Pollution Prevention. "The Environmental Protection Agency is taking action to protect bees from pesticide exposure, and these label changes will further our efforts."
Products containing the neonicotinoids midacloprid, dinotefuran, clothianidin and thiamethoxam will soon have to display the EPA's label.
Labels for Products Containing Neonicotinoids Warn Against Endangering Pollinators The new labels for products made with chemicals known to be harmful to honey bees feature an image of a bee as well as detailed application restrictions.
The label announcement comes a few months after the EPA released a scientific report on honey bees, explaining the links between neonicotinoid exposure and population declines, parasites and disease and loss of habitat, among other factors.
The labels include an extensive amount of information outlining the restrictions on pesticide application. For example, the chemicals must be applied after sunset, when temperatures are below 55 degrees and only if the process meets state laws and if beekeepers are notified at least two days prior.
Request your FREE instant quote today.