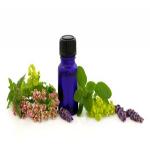 Use essential oil labeling ideas that will establish you as a dependable brand. Many shoppers may not know how to use essential oils or what they can be used for. When shopping, these consumers may pass right by items if they aren't provided with some information on the benefits of these products. Essential oil labels should help consumers make an educated purchase.
How to Label Essential Oils
Take a moment to consider another perspective to gather ideas for how to label essential oils. Consumers may be encountering these products for the first time when browsing in the store. First of all, make sure shoppers know your products differ from fragrance oils. When creating a label, it may be a good idea to include a concise description of what essential oils are and why they are useful products to own. Use colors that emphasize the natural origins of essential oils. However, you may want to stay away from colors that are too vivid, since these could imply that products contain synthetic ingredients. Essential oils are naturally derived, so neutral tones are best. Fonts need not look too branded, but can be more naturalistic, resembling handwriting.
Include Essential Oils Health Benefits on Labels
Provide information about essential oils' health benefits when creating labels. Many consumers are on the lookout for alternative medicines and home remedies. These products have demonstrated uses in aromatherapy. As when brands nutraceutical labels, cite research that supports that benefits of your product.  For example, a study published in the International Journal of Neuroscience demonstrated that certain scents have positive effects on mood and short-term cognition. Lavender was found to positively impact emotional states, while rosemary made people feel more alert. Other oils are good for consumers suffering from colds or flu. Eucalyptus oil is great for congestion and frankincense is said to have immunity-boosting properties. Particularly in the cold months of the year, demonstrating how oils can be used to sooth or prevent illness may help to boost sales.
Target Essential Oils at DIYers When Making Labels
Many customers use essential oil as an ingredient in homemade cleaning agents. For those who want to stay away from cleaning chemicals, do-it-yourself (DIY) products are a great solution. Provide recipes for homemade soap, toners and lotions. Essential oils are also a cost-effective way to add scent to DIY products. Because they are so concentrated, these products can be diluted and still make an impact. Make it obvious on labels how essential oils can be used in the household, from homemade products to simple air fresheners. Include instructions on how to make home bath products by using a peel-off label that consumers can keep after the product is gone.
Request your FREE instant quote today.