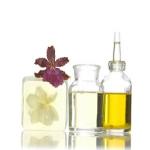 Stand Out Among Competitors with Essential Oil Labels
When new trends come to the fore in the bath and body products sector, two forces intertwine: opportunity and competition. People will be looking for new brands to try, and if yours has the right packaging strategy it can stand out against the many other options on the market. However, nothing less than a great look will do, because rival producers are sure to step up their efforts in response to demand.
Essential oils, simple and aromatic natural compounds, have entered this cycle of promotion and excitement. Convincing customers that your products are the right ones for them will take an assured sense of design, as well as high-quality essential oil labels that don't break down.
Tough and Compelling Packaging
Bath and body products demand labels that won't wear off when exposed to water or other liquids. Custom essential oil labels must hold up under these conditions, while still looking great and selling the product to curious shoppers.
Buyers may react positively to packaging that reflects the qualities of the oil inside the bottle. Therefore, a warm and elegant look that expresses the pure, natural character of an oil could prove to be a key selling point. Whether they're browsing at a small local market or the health and beauty aisle of a major store, people will be on the lookout for compelling visual stimuli.
The Right Label Partner
Working with an experienced label printing company is one way to ensure your brand's packaging has a compelling and original look - and one that holds up when the bottles are exposed to water or the oils contained within. Lightning Labels offers a choice of materials and finishes, including waterproof options ideal for bath and body products.
Working with Lightning Labels is quick and easy, with all-digital printing processes, and an acclaimed customer service team ready to help you.
Request your FREE instant quote today.