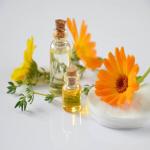 Essential oil use is on the rise, which is both good and bad news for your business. As essential oils become more popular, you will have more opportunities to sell product. However, you are also more likely to face fierce competition as new essential oil businesses open their doors in response to increased customer demand. If you want to consistently stand apart from the competition and present your consumers with a polished, professional image, the way you label your products is of utmost importance.
The Influence of Packaging on Purchasing Decisions
A study referenced by researchers at the University of Miami and California Institute of Technology shows just how large an influence product packaging can have on consumer purchasing decisions. In the study, participants were asked to choose a snack item from four available options. Special technology was then used to analyze the eye movements of the participants as they chose which snack item to eat. Study results showed that the visual attractiveness of the product's package was nearly as influential to consumer decisions as food preference.
Although the study was conducted on food items, the information gleaned from it can be applied to custom essential oil labels as well. A more generalized study published in the Journal of Business Strategies states that consumers have a difficult time separating packaging from the actual product. This means that if your product packaging is of low quality, buyers will consider the product inside to be of low quality as well. On the flipside, products that have high quality packaging are more likely to be perceived as high quality products.
The Importance of Color
In the study referenced above, it was discovered that the color of a label had the most influential impact on purchasing decisions, followed by the image on the packaging. For this reason, it is important to choose label colors that appeal to customers while accurately representing your products. According to an infographic on Shopify, certain colors appeal to certain consumer segments. Here's a quick breakdown of popular consumer categories and the colors that attract them:
Impulse shoppers: Red, orange, black, royal blue
Budget shoppers: Navy blue, teal
Traditional buyers: Pink, rose, sky blue
You can take advantage of this information by intentionally including certain colors on your essential oil labels to attract your target market.
Order Your Custom Labels
Already have a winning label design? Let us create the finished product for you! Lighting Labels offers high quality, water-resistant essential oil labels that will accurately reflect the quality of your product and encourage consumers to purchase them. Order online today and receive your labels via free ground shipping within 72 hours of proof approval.