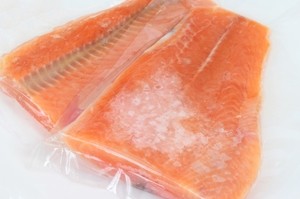 FDA Grants First Approval for Genetically Modified Animals as Food In a press release this week, the U.S. Food and Drug Administration announced new GE labeling guidelines.
For the first time, the FDA has approved the production of food from an animal that has been genetically modified. The approval request came from AquaBounty Technologies and pertained to the company's AquaAdvantage Salmon, a genetically modified type of Atlantic salmon.
According to FDA regulations, for a product to be labeled as genetically modified, there must be a "material difference" present. Because the levels of safety and nutrition value in the bioengineered fish remain equal to those of its traditional counterpart, the FDA said it will not require the product to be labeled as having been genetically engineered.
Bernadette Dunham, director of the FDA's Center for Veterinary Medicine, explained that "the FDA has thoroughly analyzed and evaluated the data and information submitted by AquaBounty Technologies regarding AquaAdvantage Salmon and determined that they have met the regulatory requirements for approval, including that food from the fish is safe to eat."
With the approval, the FDA also issued two new manufacturing guidelines regarding the voluntary labeling of products sourced from genetically engineered animals and plants.
"We recognize that some consumers are interested in knowing whether food ingredients are derived from GE sources," said Director of the FDA's Center for Food Safety and Applied Nutrition Susan Mayne. "The FDA is issuing two guidance documents that explain how food companies that want to voluntarily label their products can provide this information to consumers."
The guidance documents detail the labeling of foods with Atlantic salmon, and present a finalized guide on labeling foods sourced from genetically engineered plants.
Associations Support Voluntary Labeling Guidelines for GMO Products Several food industry associations have made statements of approval regarding the FDA's announcement, many of which claim they believe labeling legislation should be voluntary rather than mandatory.
Following the announcement, the American Soybean Association stated that it is in agreement with the agency's guidelines, noting that a petition to make it mandatory for GMO foods to be labeled was recently rejected by the White House administration. This is a decision, the association argued, that indicates changes are being made based on scientific evidence rather than emotion.
"We have consistently said that explicit labeling should be reserved for health or safety concerns, and science has time and time again proven that these concerns don't apply to GMOs," ASA President Wade Cowan said. "Slapping a warning label on the front of a food product when no such warning is warranted will only serve to steer people away from the safe and affordable food they need to feed their families. The White House has chosen science over rhetoric today, and we applaud them for it."
The National Corn Growers Association also thanked the FDA in a press release.
Chip Bowling, the organization's president, said, "The FDA's approach to voluntary labeling of food products would provide American consumers with truthful information in a clear manner that respects regulatory processes already in place. A voluntary labeling system, like the one outlined, provides information that would allow consumers to make choices based in facts and not in fear."
The FDA noted that its decision was made based on extensive peer-reviewed data and research.
Request your FREE instant quote today.