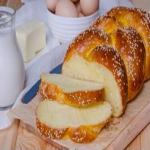 The Food and Drug Administration requires disclosure of some common allergens on food labels. It's wise to stay aware of which ingredients are included, as failure to include an ingredient may lead to customer health risks, along with the potential fines and recalls that accompany them. This means not just memorizing the FDA's current list but also keeping an eye on the news, because new allergens are periodically added to the list of items requiring warning labels.
Recent discussions at the FDA have focused on sesame. The FDA has requested more information from industry sources about how prevalent and serious sesame allergies are in the U.S. At the end of this research, the agency may decide to add sesame allergens to the required disclosure list.
FDA Ponders a Decision
According to Food Safety News, the Food Labeling Modernization Act, currently moving ahead in different House and Senate versions, would add sesame to the existing list of major allergens. The current list of eight ingredients comprises milk, eggs, fish, tree nuts, peanuts, wheat, soybeans and shellfish. Those were selected because they are the eight most common allergens to affect consumers. Sesame is under consideration because it follows close behind. Food Safety News reported new Center for Science in the Public Interest Research has found sesame is the No. 9 allergen in the U.S.
The current push for sesame labeling would bring the FDA into closer alignment with other regulatory bodies around the world. As Food Safety News explained, the European Union, Canada and Australia all consider sesame a priority allergen which must be disclosed. The most visible example of sesame allergies in recent years came in 2016, when a 15-year old girl suffered a fatal reaction to sesame allergens in a sandwich made at Heathrow Airport in London.
Food Safety News noted sesame is currently put in ingredient listings, but not always as "sesame." Producers may use "spices," or "natural flavor" to list the ingredient in question, as well as "tahini" or "benne," among others. This makes it difficult for people with allergies to scan ingredient panels for safety information.
Comments Closing
The FDA's comment period started on October 30 and will extend for 60 days, until the final week of 2018. Industry sources have until then to weigh in about the prevalence of foods that contain sesame, the rates of allergies to the substance and the potential costs of changing the way disclosure is handled. Food allergy labels will have to change in the near future if the department decides the evidence supports such a move.
Companies reviewing their food warning labels should ensure they're in line with current rules and ready to pivot if the laws change. One way to maintain this agility is to work with a digital printing partner which offers low minimum order sizes. Buying only as many custom food labels as required means your business won't be stuck with piles of unused and outdated label stock when new regulations come into force. This is one of the advantages of choosing Lightning Labels for your next food packaging compliance project.
Request your FREE instant quote today.