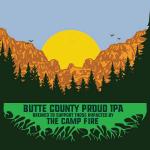 Enlists the support of 1,400 breweries nationwide to donate 100% of Resilience Butte County Proud IPA sales to Sierra Nevada Camp Fire Relief Fund; "Resilience Night" fundraiser on Dec. 20 spotlights the effort
 Lightning Labels supports the cause with brewery label donations
 If you're looking for a really good excuse to drink beer, now you have one!
In the wake of the northern California Camp Fire, Sierra Nevada Brewing Co. decided to support long-term community rebuilding by brewing Resilience Butte County Proud IPA, and donating 100% of the sales to Sierra Nevada Camp Fire Relief Fund to help Butte County recover.
Sierra Nevada's website points out, "…we asked every brewery in the country to do it with us…more than 1,400 breweries signed up to brew Resilience. Our suppliers donated ingredients to every brewery nationwide. Wholesalers and retailers agreed to carry the beer and donate every dollar they received. All of them agreed to do this for free to benefit people they had never met."
To spotlight the effort, Sierra Nevada is inviting beer drinkers to participate in "Resilience Night" Thursday, December 20. Sierra Nevada is encouraging people to "head to your local participating brewery to try their version of Resilience IPA–every dollar spent on Resilience will benefit those impacted by the Camp Fire. Together, we can raise more than $10 million."
Denver-based Lightning Labels is contributing 1,200 labels to the cause. Account Manager Ryan Tennant notes that so far he's connected with nine Denver area breweries to produce the labels. "Everyone's doing their part to donate and pitch in. As I understand it, the full-fledged effort kicks off Thursday and lasts until the beer runs out. Depending on quantities made and the commitment of each brewery, it could take a week. Some might take a month."
In the heartland, notes KTLA TV Los Angeles, "Free State Brewing Company in Lawrence, Kansas is one of the hundreds of breweries to offer Chico, California-based Sierra Nevada Brewing Company's new specialty IPA called Resilience Butte County Proud…Free State's head brewer Geoff Deman said Sierra Nevada shared the recipe for the citrus-flavored beer so that breweries could make it locally. Deman said the Lawrence brewery will have the beer on tap until it runs out…All proceeds will go to Sierra Nevada's Camp Fire Relief Fund to help rebuild Butte County."
"This massive outpouring of generosity and support across the country to help total strangers is incredibly heartening. It reminds all of us that we remain a country of givers, willing to help with our hearts and pocketbooks in times of need. It's an especially gratifying way to focus on what's truly important this holiday season," notes Gary Paulin, Lightning Labels' Director of Sales & Client Services.
Happy holidays, happy hops and happy giving to a good cause!
Request your FREE instant quote today.