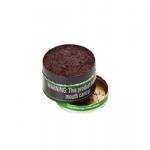 Agency Seeking Comments On Ways To Improve Labels
When people hear "warning labels," it's likely cigarettes will be the first thing they think of. But cigarettes aren't the only form of tobacco subject to labels alerting users to potential severe health complications; smokeless tobacco is getting some negative attention, too. As part of its continued focus on overhauling tobacco labels, the U.S. Food and Drug Administration is looking for input on how to improve those applicable to chew, dip, snuff and the like.
The FDA recently published a docket in the federal register asking the public to comment on how the agency can do better with smokeless labels.
"We are interested in comments, supported by scientific evidence, regarding what changes, if any, to the smokeless tobacco product warnings would promote greater public understanding of the risks associated with the use of smokeless tobacco products," the FDA said in the publication.
Four Different Warning Labels Already In Use Currently, smokeless tobacco products have to display at least one of the four approved warning labels the FDA mandates them to include on packaging. They include: "WARNING: This product can cause mouth cancer," "WARNING: This product can cause gum disease and tooth loss," "WARNING: This product is not a safe alternative to cigarettes," and "WARNING: Smokeless tobacco is addictive."
Request your FREE instant quote today.