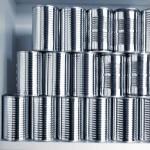 Has it been a while since your food brand refreshed its product labels? If so, now is a great time to make a change and give items a vibrant new look. After all, National Canned Food Month - celebrated in February - is right around the corner. There are plenty of elements that go into compelling canned food labels, and when your brand works with a helpful partner such as Lightning Labels, you can implement these changes in time for National Canned Food Month.
What Makes a Canned Product Label Work?
While every can demands a label treatment to match its contents, there are a few selections that look great on numerous product varieties. For instance, recipes involving a particular ingredient can help customers envision the way they'll use a canned item. These labels also encourage shoppers to pick your brand, because they'll want to take the recipe home with them.
Can labels give you a lot of room to work with when working on new designs. Whether you explicitly mention National Canned Food Month or not, you can add vibrant and colorful imagery that will attract attention on supermarket shelves. High-quality pictures of the product contained within a can will help sway consumers' preferences. Since cans themselves are so uniform, the design sense you put into your custom labels is the main way to differentiate your brand from competitors.
Get Your New Look Quickly
With a mere few weeks left until National Canned Food Month kicks off, now is a great time to take stock of your canned goods and see if the labels are calling out for a refresh. When you work with Lightning Labels on that redesign, you can receive your new food labels in a matter of days, rather than weeks or months. This blazing speed is due to Lightning Labels' all-digital printing process and its decision to operate domestic facilities rather than outsourcing production.
Request your FREE instant quote today.