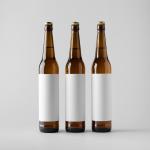 The craft brewing industry has exploded in recent years, with estimates indicating it now represents a 
23 billion dollar industry
. Given the number of available options for consumers, it's crucial for craft brewers looking to break into the market to set themselves apart.
Eye-catching pressure sensitive labels can be a great way to engage customers and persuade them to choose your brew. Let's take a closer look at why you should choose these labels for your beverage.
What Are Pressure Sensitive Labels?
First off, what does it mean for a label to be pressure sensitive?
Simply put, a label that is pressure sensitive works like a sticker. It is what's called a "face stock," which includes your product's imaging, an adhesive back, and a liner. These labels can be printed by the sheet and easily adhered to your beer.
By contrast, the beer industry commonly uses what are called cut and stack labels. These are pre-printed labels that are glued to the beer bottle during production.
So why choose the pressure sensitive option?
More Customization
Label makers can use digital software to create high-quality pressure-sensitive beer labels. Additionally, these labels take less time and set up to make, making it easier to order a smaller quantity.
This is perfect for breweries that have seasonal or limited time offerings. Customers tend to be drawn to seasonal beers, so having the ability to produce new labels could open up new business opportunities.
Make More Beer
Since labels are relatively inexpensive to produce, they also provide you more freedom to try new flavors and offerings. You can even roll out a small batch to test its popularity.
If you have your branding printed directly on a can, you can only use that can for that specific beer. If you use labels, however, you have more flexibility. If a particular beer isn't successful, you aren't stuck with a bunch of cans you can no longer use.
Durable Material
Have you ever pulled a bottle of cold beer out of a cooler filled with ice, and immediately had the label slip off in your hand? This happens because the label is made of paper, and it doesn't hold up well to exposure to cold temperatures or moisture.
When you choose a pressure sensitive beer label, you can add a laminate varnish. This gives the label a protective layer and will guard it from damage. So, when a potential customer pulls out your beer at a buddy's cookout, they'll know exactly what they're drinking.
Get Custom Labels Today
With pressure sensitive labels, your craft beer will look professionally produced and will be enticing to customers. You can also be confident that the label will stay intact and on the beer, which will help promote your brand to new customers.
If you want to get an idea of what labels would look like for your beer, you can order some free samples. We have a wide variety of options to help you design the perfect label for your product.
Request your FREE instant quote today.