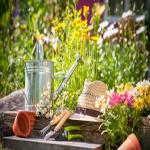 Attract Consumers To Fertilizer Products with Printed Labels and Stickers
Lightning Labels, custom label and sticker printing leader, is encouraging fertilizer manufacturers to give their marketing tactics a reboot this summer with printed labels and stickers. The warmest season is a popular one for expert gardeners and novice home-growers alike, and fertilizer producers can take advantage of the trend by jumpstarting their branding campaigns with hot new product packaging.
Because summer is the prime season for so many delicious fruits and vegetables, people across the gardening-experience spectrum are pushing up their sleeves and getting down and dirty in their yards. Meanwhile, farmers - who are working hard to meet the season's increased demand for produce - are likely bulking up production, as are professional gardeners and landscapers, who may see a spike in business during the warm months. Many different groups are therefore in need of fertilizer, and with the right printed labels and stickers, manufacturers can guarantee their products are commanding attention.
"Summer is a great time for gardening and planting, both for business and pleasure," said Julie Mcculley, Lightning Labels Production Manager. "With fertilizer playing a critical role in home gardens and farms, manufacturers have the opportunity to increase sales and boost brand awareness this season. When they're looking to improve their marketing tactics, fertilizer producers should consider how their labels affect their products' performance in stores and online. Lightning Labels can help manufacturers create attractive, durable printed labels and stickers that deliver the results businesses need."
Product Labels Are More Important Than Ever Before While more people may be looking for fertilizer this season, they certainly aren't settling for any old product they see on store shelves or on the Internet. Consumers have become extremely ingredient-conscious in recent years, and many only purchase items they're sure are entirely or partially made of natural or organic components - and this extends beyond the purchases of food products. As such, when consumers and businesses shop for fertilizer, they're likely inspecting product labels and looking for those key ingredients.
Even though goods made with artificial additives and preservatives promise a longer shelf life and are common in many U.S. households, research suggesting some of these components may be harmful or unhealthy has dissuaded many shoppers from buying such items. An increased focus on the benefits of organic fertilizer - better nutrient release and enhanced soil, for example - has turned many into avid fans. That's why Lightning Labels' printing experts recommend featuring a product's organic ingredients on its custom labels.
Custom Labels and Stickers Help Flaunt Product Ingredients With the right sticker and labeling solutions, manufacturers will find it is easy to design packaging for their fertilizer products that is both attractive and informative. Lightning Labels' custom labels and stickers can meet the needs of distributors of all sizes. Manufacturers looking for versatile, high-quality and affordable packaging for their products can rely on digital printing technology to create full-color labels and stickers for any product size and shape. In addition, Lightning Labels can incorporate text and images into custom packaging. Fertilizer makers can choose to list out their products' organic ingredients in a variety of ways, and even include images to get their point across.
Another major benefit of partnering with Lightning Labels is incredibly fast turnaround. Orders can be shipped within 48 hours of a design receiving its final press approval. Manufacturers can rest easy knowing their newly adorned products will be available for purchase within days of creating a label template that attracts ingredient-focused consumers.
Request your FREE instant quote today.