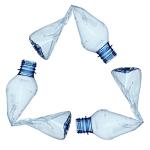 Panel Meets To Make Labels Better
Full-wrap labels have been a key development in recent product marketing. Shrink-wrap bottle labels that cover nearly every space on the product's packaging have given marketers more room than ever to build their brand and display health claims.
But it's also posed a bit of a problem when recycling those bottles. Around 80 percent of all polyethylene terephthalate (PET) - which is the most recycled plastic - bottles have full-wrap labels, but some challenges have been met in the recycling process. In order to find solutions on how to better label and improve the recycling processes, a 30-member panel recently met to brainstorm on the idea.
Multiple Solutions For Removal Of Labels The industry group sat down to discuss how to revamp labels to better mesh with current recycling procedures, while still preserving the marketing value of full-wrap labels. Some of the proposals include floatable labels, perforated labels to aid in removal at reclaimer's facilities, increasing the availability of delabeling equipment at recycling plants, and even having consumers remove the label before putting it in the blue bin.
Request your FREE instant quote today.