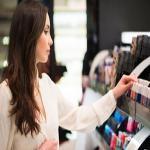 A Big Season for Beauty and Skin Care
The beauty products market is active year-round, but you can always count on the holiday season to send this industry into high gear. From perfume to nail polish to creams and lotions for soft skin, a plethora of products can benefit from either special winter releases or simply an appropriate labeling campaign.
If this is your field, it's time to think about your plans for this holiday season. It's certain that some of your competitors will spruce up their product lines in the months ahead, so it's up to you to respond in kind. Holiday product labels, presenting a fun seasonal message in bright and vibrant color, may be just what you need to reach your audience.
A World of Possibilities
Just about any health or beauty requisite can be transformed visually via a well-chosen holiday labeling strategy. This means that no matter what your niche is within the space, it's time to think about November, December and the new year. All you have to do is find a seasonal angle that fits your branding and the product itself, and this may be easier than it sounds.
• Perfume: Popular gift items may be due for specialized outer packaging or a sticker reminding shoppers that recipients will love the product in question. Beyond the seasonal branding, the holiday buying season is a great time to check and ensure the look of the bottles and any accompanying packaging is suitably luxurious and appealing.
• Nail Polish: Any season is a great excuse to roll out new nail polish colors, and the winter holidays certainly qualify. Full-color labels with a lot of festive elements can turn such an item into a must-have for shoppers who want to keep a look on-theme at parties, work celebrations and more as the holidays approach.
• Skin cream: The winter holidays aren't all fun and games. The season comes with cold weather that can seriously damage skin. This means it's time to use colorful and compelling health product labels to draw eyes to moisturizing creams and lotions. Shoppers who are looking for family presents may end up going home with skin treatments to keep their hands soft amid strong winds.
Time to Order
The holiday season is already here for retailers, as between Black Friday and the new year, there likely won't be enough time to recalibrate or add to product strategies. Now is the last chance to get set up for the brisk months ahead. That means it's the right moment to order beauty product labels and stickers from Lightning Labels.
As an all-digital printer, Lightning Labels can turn orders around in times measured in days instead of weeks and months. This means less time waiting for the labels to arrive and more time actually getting products on shelves for the holiday rush. Another advantage of digital printing is the ability to order smaller batches of labels without experiencing crushing mark-ups. No matter how big or small your brand's product lineup is, you can transform it this holiday season and put a bold, colorful face on your brand.
Request your FREE instant quote today.