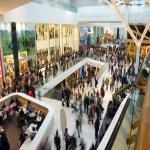 Stand Out from the Pack
If the air's getting cooler and the nights longer, Black Friday and Cyber Monday must be on the way. Your retail business is likely banking on big returns from these shopping seasons, so it's time to ensure your preparations are underway and up to a high standard. Getting customers ready for the big shopping days and ensuring they're aware of the savings to come can be a challenge in today's ad-saturated climate, but there are creative ways to put your messages in front of plenty of eyes - custom stickers and labels looming large among them.
Several Places to Promote
You can promote your business with stickers on your products, as well as window stickers or ones that will add visual flair to endcaps and other shelving fixtures. The temporary deals that kick off the holiday season are a big event for retailers of all kinds, and you can give them the appropriate fanfare with bright and tough stickers on every surface. It's time to advertise the deals to come, as well as special hours or online-only deals consumers can access when they get home.
Window stickers may be especially useful when it comes to promotions and sales. Perhaps you have a sign in your window that shows your hours and which types of payment you accept. You can supplement that year-round version with a new, colorful sticker touting your expanded hours for the shopping season and ensure your customers are ready to join you on Black Friday.
Special Deals
Of course, on the day itself, people will want clarity about which items are on sale. Custom labels for special releases, or stickers that will explain the one-off prices and bargains available, can ensure customers don't pass up limited-time offers. On busy shopping days especially, people may not want to flag down employees to ask their questions. Instead, they'll look at signage and the products themselves to see what kind of deal they're in line for. If your labels and stickers are as clear as possible, they'll get the message.
Time to Act
The holiday season for retail is just around the corner - it seems the sales start earlier every year, and you don't want to be left out of the excitement. It's time to work with a reliable partner, such as Lightning Labels, to receive bold-looking and tough stickers and labels well in advance of the first shopping days of the season. Lightning Labels turns orders around in days, not weeks or months, meaning you won't be left waiting.
Request your FREE instant quote today.