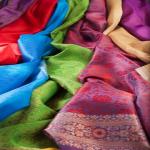 Who Says Labels Have to be Boring?
Standard, boilerplate labels have long been in use by a range of organizations, including food industry competitors, retailers and manufacturers, and will generally include the bare minimum of information related to products. While this can certainly get the job done, and some brands might want to keep their messaging and packaging as simple as possible, others do not have to remain one-dimensional when approaching their product labeling strategies today.
Rather, before the holidays kick in, some business leaders should go outside the norm and begin to label their products with a bit more pizzazz, helping to give them the best possible chance of maximum revenue and brand recognition. In these instances, they might want to think about using holiday labels made from various materials, including satin, to really separate themselves from competitors in their respective marketplaces.
Adding a Tactile Edge
Labels will tend to only target one of the average consumer's senses, and while sight is sometimes plenty, there is something to be said about adding to the feel of the items with a rewarding texture such as satin. Simply put, there are likely very few businesses that actually take this approach, and doing so can quickly improve the stature of a branded product on the shelves and in the hands of shoppers sifting through their various options in a given store.
Custom holiday labels can be designed to also have a visual edge on the competition, but the tactile feel of more unique ones might just work to keep the brand and the products themselves in the minds of consumers for longer periods of time. Considering the fact that the busiest shopping days and weeks are right around the corner, now would be the best time to get moving on these projects and establishing the right balance for design and texture.
Satin cloth labels will be better-suited to some products compared to others, including home goods and furnishings, clothing, special holiday food packaging and toys. On the other hand, virtually any product can be made more engaging when the company puts an extra effort into the marketing and placement of the products, and this can be quickly handled when working with the right label service provider.
Customized Holiday Labels
Now, some products will simply not have any different packaging or labeling when the holidays roll around, and this is a missed opportunity among manufacturers and retail firms given consumers' gravitation toward specialty items. What's more, if providers of similar products do indeed go above and beyond the call of duty with respect to their packaging and labeling, they will likely be more successful in terms of brand recognition, loyalty and revenue growth this holiday shopping season.
Working with a specialized, reliable labeling service provider like Lightning Labels can help ensure that all of the effort put into these projects comes back with speedy and preferable returns both in November and beyond.
Request your FREE instant quote today.