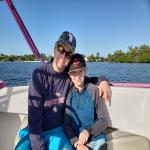 Merle Vigil is a natural leader. He is the lead for a team of five new business development sales representatives, who follow-up and consult with new Lightning Labels prospects on a daily basis. It's a consultative sales approach, and the team partners with a highly diverse customer base to build long-lasting relationships.
Before joining Lightning Labels in 2016, Merle managed several restaurants for about 11 years, and transitioned into sales in the years after.  He subsequently sold and managed remodel and exterior home projects, for a few years before joining Lightning Labels.
When asked about the favorite part of his job, Merle replied: "This is simple, I love working with people. We get to work with the full spectrum from 'Mom and Pop' start-ups to multimillion-dollar giants.  Solving problems and fulfilling the final step to a lot of people's personal dreams and businesses is amazing. Also being able to work in such a cool artistic environment with an always changing product on our customers' end never gets old. The culture and support are unmatched in any workplace I've had in the last 20 years or so of my career."
Always working on refining processes, Merle points out that the ever-changing work environment helps define technologies and capabilities. "We're seeing explosive growth in several key industries where custom label printing is in high demand and growing," he notes.
In addition to his professional life, Merle leads a full personal life. He's a single dad to his 11-year-old son, who is "the single most important thing in my life. I have a close friend network that keeps me in good health and spirits!"
The fourth-generation Colorado native is an avid outdoorsman. He and his son devote much of their free time to camping, fishing, hunting, snowboarding, traveling and "just about anything else we can find outside." They also are big movie buffs and "pop culture addicts" who spend as much time as possible relaxing at home and binging on a variety of offerings.
Other recreational pastimes include playing golf "as much as I possibly can, which is never enough," and hockey on the weekends.
Rounding out an already full schedule, Merle manages to devote time to volunteering at his church and son's school, and supporting a variety of veterans-oriented programs in his hometown.
Merle is proof that you can lead a fulfilling personal and professional life by maintaining a clear sense of priorities and keeping everything in balance.
Request your FREE instant quote today.