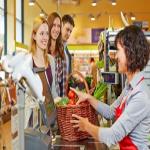 Current Product Labels Look 'Cheap,' Says Grocer Grocery company Tops will be retooling the product labels and packaging for its own brand-name food items in response to criticisms that suggested its existing labels make the products appear "cheap," Buffalo News reports.
The end goal is to create packaging and labels that appear attractive to customers and portray the Tops food brand as a high-quality alternative to more popular food brands.The current labels are not living up to that standard, according to Tops spokeswoman Katie McKenna. The grocer worked with private label partners to assess customers' perception of the products, and the results came up negative.
"The way it was packaged didn't match the product's quality," McKenna told the news source. "The perception was that it was lower quality and cheap. And something being a good value and being 'cheap' are two very different things."
Product Labels Matter for Reaching Customers If companies want customers to buy their products, labels are important. A cheap or inexpensive looking label may convey the same about the quality of Tops' practices.
Request your FREE instant quote today.