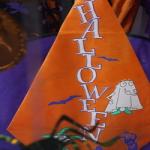 3 Halloween Label Ideas to Treat, not Trick Sales
As the fall weather settles in, brands are seeking fun Halloween label ideas to give their products a marketing edge. The holiday is just weeks away, and as consumers across the country prepare for Halloween by shopping for costumes, decorations and candy, unique and attractive custom food labels are sure to catch their eyes.
Whether you're a candy company looking to revamp your seasonal marketing strategy or a bakery aiming to launch Halloween products for the first time, you likely want labels that go beyond simply acknowledging the holiday. Product packaging that amplifies the spooky, festive nature of Halloween and adds to the celebration while also providing the right information will resonate with consumers and translate to increased sales.
Here are three ways to create terrifyingly good labels for Halloween:
1. Test New Colors, Images for Custom Food Labels:
Simply adding a little orange and black to your custom food labels isn't going to make your product stand out on store shelves. Instead, try adding different hues of oranges, reds and browns to embrace the fall season. Additionally, with the help of a custom label printer, you can place unique images on your food labels. Because children are major candy consumers, you'll want to include graphics that appeal to them but don't turn other consumers away because they're too cutesy.
2. Maintain Accuracy and Transparency on Candy Labels:
Halloween is nothing without candy, and there's no doubt children are the target audience for sweets makers this time of year. However, kids aren't the ones paying for goods in stores, meaning any brand selling to children needs to sell to parents as well. One of the best ways to do this is by ensuring candy labels contain all the information moms and dads are looking for, like ingredient listings, allergen information and nutritional value. All marketing claims on product packaging should be truthful and consistent with the brand image. Partnering with a digital label printer that can place small, but clean and legible print on labels is a smart way to make you can get your message across without crowding your product packaging.
3. Boast Your Products' Attributes on Halloween Labels:
Even though your product label design may revolve around Halloween, that doesn't mean you can't include information about your products' high quality. With consumers increasingly seeking out products that are eco-friendly, fair trade and exotic, it's a good idea to flaunt ingredients, production methods and any other details that prove your goods are worthwhile purchases any time of year.
Request your FREE instant quote today.