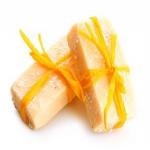 The Handcrafted Bath & Body Guild of Canada is teaming with the Handcrafted Soap & Cosmetic Guild to hold the 2018 Canadian Soap & Cosmetics Conference in Toronto. The event, taking place June 8-10, is the first edition of an annual convention, one that will see independent bath and body entrepreneurs come into town from all over Canada.
The agenda for the three days includes an awards banquet, as well as panels and educational sessions. There will also be an exhibitor room, where business owners can strike up the partnerships that will define their business for the next year and beyond.
Discover Handmade Cosmetics Strategies
Selling products in the competitive and independent world of artisanal cosmetics can be challenging. The alliances and discoveries entrepreneurs make at the June conference could help them improve their own performance. Lightning Labels representatives will be on hand in the exhibitor room to show off custom labels and demonstrate how to make soaps, creams and other bath products visually arresting.
The three days of panels, talks and dealer conversations at the expo can send entrepreneurs home with vivid new ideas on how they can stand out, not just against their small peers but also the global brands with huge footprints in the space. Without large marketing budgets, handmade cosmetic vendors can put their trust in small but effective strategies such as improving their bath and body labels.
Work with Lightning Labels
Over the course of each year, representatives from Lightning Labels operate tables at conferences around North America, covering a range of industries. This is because the value of eye-catching packaging is noticeable across sectors. Each type of business has slightly different needs, and at the Canadian Soap & Cosmetics Conference, the Lightning Labels team will demonstrate how tough, waterproof materials are ideal for custom bath and body labels.
Request your FREE instant quote today.