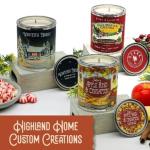 Branson, MO-based Highland Home Custom Creations offers a customized candle-buying experience that also gives back to area causes.
While some waxed poetic during the Covid lockdown, Highland Homes co-founder Eric Dalton was learning how to transform wax into a candle-making craft. At the same time, his partner and co-founder Gage Becker was exploring a career shift that utilized his artistic abilities.
Eric notes, "While our house started to smell lovely, there wasn't much to satisfy our boredom. With many businesses closed, we took many walks around our neighborhood to pass time throughout the day. While on our walkabout, Gage noticed several unique houses that he could paint in his free time. Fast forward a few months later and the idea was born—pairing Eric's hand-poured candle and unique hand-illustrated house portrait from Gage, all gifted in a unique box." Later, a wax melt was added to complement a custom gift set.
Current candles include The Signature Collection, featuring Highland Home's signature glass jars and wax melts, and The Ozark Collection offering illustrations of many wonderful areas of the Ozarks (where Eric and Gage reside).
In April, the company plans to launch The Custom Candle Experience. Customers will be able to choose their favorite candle from a variety of scents as well as their favorite label. Notes Eric, "Gage has created over 40 new labels to choose from, with more in the works. We will be offering this new product, which enables customers to have an interactive experience, at festivals in the coming months."
According to Eric, customer service excellence is at the "core of why we do what we do, which includes customizing our products, creating emotional connections with our customers, and providing high-quality service, products and experiences. This keeps our customers satisfied and returning for more. When we work markets and other festivals and events, we try to get to know our customers. Many have become friends. If there is something they don't see on our shelves, we try to create something special for them. For a special request or commissioned work of art, our goal is to assess in detailed fashion what they want, then address it by creating a piece they will cherish for a lifetime."
Committed to giving back, Highland Home will donate $2 to an organization that a customer selects from its "Candles for a Cause" list. Current Cause recipients include Springfield Black Tie, southwest Missouri's premier fundraising event that benefits local and statewide charities that serve the LGBTQ+ community; Springfield's Breast Cancer Foundation of the Ozarks; and Farmer's Market of the Ozarks.
Relationship with Lightning Labels, the custom candle product label printing specialist
Eric adds, "Lightning Labels has played a big role in our success. Our customers first noticed the quality candle labels featuring our art. We hear constantly how this has drawn them to the product. Quick turnaround times are also key to choosing Lightning Labels as our label partner. The biggest reason why Lightning Labels has been the most outstanding business compared to other companies is the sense of connection they have with us. They have literally guided us through unfamiliar processes. The sense of 'user-friendly' has played a role in feeling satisfied while making large purchases. Overall, we are truly grateful for everything Lightning Labels has done for us and can't wait to continue the relationship in the future!"
For more information, visit: https://hhccreations.com/