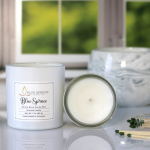 Coloradan Cheryl De Roia founded Blue Spruce Candles to honor the state tree and provide stress relief through candle aromatherapy.
Prior to starting Blue Spruce, Cheryl worked for 15 years as a special education teacher committed to creating an inclusive and soothing environment. She donates a portion of her proceeds to the Special Olympics.
Inspiration for the company came while at home with her young daughter. "I realized it was the perfect time for me to follow my dream of owning a small business. I could make candles that would create a soothing atmosphere for me while I was caring for my baby," Cheryl notes.
Hand-poured in small batches, the high-quality candles are long-burning. Cheryl says, "My most popular scents include signature Blue Spruce scent and spa scents. Many customers lead a busy life where self-care and downtime tend to be pushed aside for family obligations or work deadlines. So, they will burn the soothing spa scents while working at home to bring about a sense of relaxation."

Exceptional customer service is one pillar of the company. It's evident in everything from a controlled growth philosophy to commitment in both product quality and presentation. "To retain such a high degree of customer service, I'm expanding my sales in a slow and controlled manner. I understand that trusting a new company or a small business can sometimes be tough," Cheryl emphasizes.
Relationship with Lightning Labels, the candle product label printing specialist
Cheryl points out that in the candle world, most small businesses print labels at home: "I knew from the beginning that I wanted a professional look and feel for my labels because I wanted to be taken seriously by wholesale and retail customers. I choose Lightning Labels as my printer and am so thankful for their support. Wholesale accounts have told me that they chose my candles because they loved the labels and felt it showed my commitment to quality."
She adds, "Once last summer I needed a set of labels for an upcoming show and Lightning Labels printed and held them for pickup so that I could sell a new product that weekend. I love their commitment to print quickly once I approve the proofs because that helps me keep my commitment of excellent customer service to my customers."
Cheryl continues, "The words that most stand out when I describe Lightning Labels are 'quality' and 'connection.' Their candle labels are absolutely the best in the industry and I love that I feel like I am part of their family when I chat with my customer service reps. Having one or two 'go-to' people at a business instead of a generic customer service email creates a special bond that helps my business run smoothly. I have tried other printing companies and would never use anyone other than Lightning Labels!"
For more information, visit: https://bluesprucecandles.com/