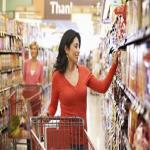 Your brand's food packaging strategy serves two purposes: First, your custom food labels carry important and required ingredient lists and nutrition facts panels. Second, your company's food packaging strategy is a major part of marketing. The designs on your custom labels may be the factor that causes a customer to make a choice in the store, selecting your items instead of a competitor's versions.
To make the most of your custom food labels, you'll have to combine elements such as high-quality materials and excellent design. To compete with rivals, both businesses your own size and major corporations, your custom food labels should contain comprehensive information, clear branding and visual appeal. If it's been too long since you've refreshed your packaging strategy, now is a great time to take action.
What Should My Custom Food Label Design Look Like?
Custom labels need to find room for visual flash and appeal in addition to their more utilitarian role telling people what is in the food they eat. Once you have obliged all the relevant authorities, getting in compliance with your nutrition facts and ingredients panels, it's time to consider your items' visual identity. You should have a distinctive company logo for all your products, along with unique looks for each flavor of variety of food you offer.
Design Hill indicated some of the most compelling recent trends in the custom food labeling space. These include using colorful gradients, which are lively and distinctive way to mix multiple colors. You may also benefit from using a transparent container with a minimalist, clear label allowing customers to see as much of the food as possible. The labels or stickers applied to the outside of your containers should be a tough paper, vinyl or polymer material to withstand conditions in transit and on store shelves.
You can also create a visual impact by picking an old-fashioned or very modern product label aesthetic. The former approach might involve elaborate typography on a rough, textured material. The latter may call for a matte feeling and the use of eye-catching text art or flat, minimalist visuals. In either case, the idea is to be bold rather than taking a safe middle path and running the risk of your food product being ignored.
What Food Label Requirements Do I Need to Meet?
The Food and Drug Administration's requirements for food labels in the U.S. have gone through several changes in recent years. While the debut of the long-awaited new nutrition facts panel is the most glaring example of this progress, the agency is always looking for input on revised regulations. Checking that your custom food labels are in compliance with the latest version of the rules is the first step in putting food on store shelves.
Small businesses may apply for exemption from nutrition labeling. If your company does not meet that cutoff, however, you will have to contend with clearly stating what kind of food products you make, listing the ingredients, providing nutrition facts and not making any health claims that go beyond legal limits. This is especially important when dealing with terms such as "organic" that have specific meaning. Using these words when they don't apply could open your company to fines and other legal action from the FDA. There are even restrictions about how information is presented. For instance, you can't put non-mandated design elements between sections of required information.
Should I Invest in Custom Food Labels?
To combine excellence in design with the latest in compliance, you should search for high-quality custom food labels from an experienced labeling partner. Lightning Labels uses all-digital printing methods, which allow you to order labels in small or large quantities, with quick turnaround times. You can select from a wide variety of materials and finishes to ensure your food labels are tough, and that their look and feel are a perfect match for your brand identity.
Whether your food products come in cans, bottles, jars, boxes or any other type of container, an eye-catching custom food label is the perfect complement for the goods within. Revising your labeling strategy with assistance from Lightning Labels is your chance to increase your brand's appeal at once.
Request your FREE instant quote today.