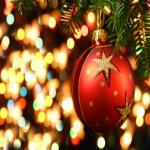 The holiday shopping season is a busy time for retailers and manufacturers of all stripes every year. To make sure your products are top choices for customers this year, you can prioritize custom label design efforts with the festive months in mind. If your items make great gifts, you can say so on removable stickers. If you're selling a collection of home goods that are especially popular around the holidays, such as cozy candles, you can opt for custom labels that make the connection with the holidays explicit.
Custom labels designed around the holidays should employ your brand's imagery and logos alongside seasonal elements, creating a perfect match between the event and your products. Success at associating your brand with end-of-year shopping can pay off in the long term as customers come back year after year.
Labels for Specific Holidays: Christmas and Beyond
Gifts are big business at the end of every year, and you can win shoppers over by creating a connection in their minds between your brand and the holidays. Custom printed stickers can tie into a major gift-giving holiday, from Christmas to Hanukkah to Kwanzaa. Seasonal imagery in these cases can be bright and cheery, reminding people browsing in stores that your products are the perfect gifts for their loved ones. This is a major boon to shoppers wondering what to buy, and can create a positive association with your items.
Of course, there are celebrations that don't involve presents but could still be a good match for your products. Thanksgiving and New Year's Eve are big days on the calendar, and can become the focal point of your marketing. You can even turn the shopper's holiday of Black Friday into theme for custom labels or stickers, potentially including coupons on the labels that shoppers can redeem after the holiday season has passed.
What Should Go Into Holiday Label Design?
Your holiday labels follow all the same rules that govern year-round designs. This means you have to think about how your imagery, whether a photo or a piece of logo art, goes with your font and color scheme. The material and finish you select for your label will also have a serious impact on how people think about the products. A shiny golden polymer with a glossy coating may make the perfect New Year's label, while a design that evokes a family Thanksgiving may work best with a relatively rough paper feel.
As 99 Designs' examples of holiday labels show, there is no one universal aesthetic for seasonal designs. Christmas imagery looks good on a red-and-green glossy tin, but it also gives a great impression on a black-and-white matte box. If you combine your brand's established imagery with holiday signifiers that will catch customers' eyes, you'll be on the right track.
Of course, despite the importance of the holiday season on the commercial calendar, the months are relatively short. This means your holiday labels should be easy to switch in and out. Marketing firm EWISE Communications recommended using labels that slip over your existing product packaging to create a temporary seasonal look. You can alternately use custom stickers, applying them as needed and saving the rest in reserve for next year.
Custom Holiday Labels: Other Top Tips and Considerations
Having the right labeling partner on your side can pay off as you guide your brand through Thanksgiving, Christmas, Hanukkah, Kwanzaa and into the new year. One key consideration is that you must find an label printing business that allows you to order in flexible quantities. Buying many more seasonal labels than you need means being stuck with inventory through a whole year. You should also look for a partner capable of quick turnaround times, taking away some of the pressure to prepare for the holidays months in advance.
Lightning Labels provides all-digital label printing processes, allowing companies to receive amounts of labels that meet their exact specifications, when they need them. When it's time to use custom labels and stickers to state that your items make great gifts or are good additions to holiday parties, Lightning Labels is the partner you should call.
Request your FREE instant quote today.