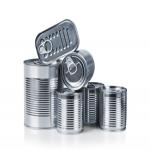 Hand- or Machine-Applied, Labeling Matters
Does your business apply product labels by hand or use machine application? That decision was likely made for you by the scale of your organization and the nature of your products. No matter which method you employ, that choice will likely have effects on the kinds of labeling materials you choose. Fortunately for businesses that are scaling up from hand production to machine labeling, Lightning Labels' custom product labels are largely compatible with either method.
Below are some of the differences between manual and mechanical application, and the ways high-quality custom labels can help your organization no matter which one you've chosen.
Applying Custom Labels by Hand
Companies that produce items in small quantities, potentially operating from home instead of possessing their own facilities, can apply Lightning Labels' product labels by hand. If this describes your company, there are a few elements of labeling that you don't have to worry about. For instance, the unwind direction of a roll of labels only matters if those labels are going to be applied automatically. That said, if you plan on switching to machine application any time soon, it's worth ensuring the rolls of labels you purchase unroll in a way that is compatible with your chosen asset.
Most of Lightning Labels' customized product labels come with backing that works with both hand labeling and automatic application. This includes our "standard" offering, the endlessly versatile White BOPP Label. The selection of a material can make a huge difference in the final appearance of a label, with different types of polymers producing a variety of effects.
One of the other considerations associated with hand or machine labeling is the quantity of labels you're ordering at once. Due to the work it takes to apply labels to products, hand application and small order sizes tend to go together. Fortunately, Lightning Labels' all-digital process remains affordable even in the latter situation, as there's no need to create flexographic plates.
Machine Label Application
Once your company scales up to automated production and packaging, it's time to think about a few extra considerations. First, you should ensure the material you're working with is strong enough to be applied to products. Some of Lightning Labels' materials are meant specifically for machine application based on their projected usage, such as the Estate #9 textured cream material. The wine industry often turns to this material, and with high-speed machine labeling being the dominant method used in that sector, the liner attached to the Estate #9 labels has been tailored accordingly.
Machines provide the speed and consistency that hand labeling can't provide, and they keep production moving. When you're thinking about customized labels for products produced in significant quantities, this application method is likely involved. As long as you verify a few variables ahead of time - choosing a material that works with your process, selecting the right size and keeping track of unwind direction - you can get the amount and type of labels you need for this process. As stated above, it's totally possible to start working with Lightning Labels when applying labels by hand, then smoothly scale up as your production line goes automatic.
Request your FREE instant quote today.