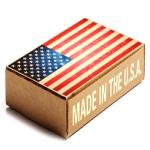 Keep Watching for New Product Label Rules
Even if product labeling was just a struggle between brands trying to win customers' eyes with their compelling designs, it would be a challenging and complicated field. It's so much more than that, however. No matter what type of products your company manufactures or sells, you've likely felt the impact of rules and regulations about what you can and should print on your labels.
Obliging and complying with relevant product labeling rules doesn't just mean memorizing policies and relaxing, either. There are real, meaningful changes to those laws every year and a failure to keep up with these updates can lead to regulatory trouble. This is yet another reason to work with a product labeling partner capable of quick turnaround times and short print runs - the resulting agility will help you change strategy if a new rule comes into effect.
A Year of Product Labeling Changes in Food and Beverage
A legal alert from law firm Brownstein Hyatt Farber Schreck recently pointed out that the Food and Drug Administration and Department of Agriculture both have relevant rules coming into effect during the year ahead. These include the new uniform genetically modified organism labeling law, as well as the final ruling on what "healthy" can mean following a period of comment and revision. Adding further uncertainty to the situation is the fact that there is always the potential that rules will change or be blocked.
The law firm indicated that there is "significant potential" for the GMO rules to not make their anticipated July 2018 roll-out date. This is due to the fact that affected producers may challenge the rules. In addition, there is a general antipathy to adding new regulations to the books among members of the current Republican administration.
Brownstein Hyatt Farber Schreck added that organizations may find themselves changing their labeling strategies multiple times over a few short months, especially if the GMO ruling does come into effect but is delayed. Complying with the FDA's new rules governing nutrition facts will force one change, then the GMO law another. This warning is a clear indication that labeling systems should be ready for shake-ups and quick changes.
Made in the USA Disputes
Where a product is made could also become a subject of debate and enforcement, according to a separate legal alert, this one by Drinker Biddle & Reath LLP. The law firm pointed out that the Federal Trade Commission has stepped up its inspection and enforcement efforts concerning products that claim to be made in the U.S.A.
Drinker Biddle & Reath explained that the new administration may have an effect on this labeling issue as well. Due to the current focus on using goods and materials manufactured domestically, there is every chance for more stringent enforcement of items that claim to be U.S.-made. The law firm added that state rules differ and companies should inspect these regulations to be absolutely sure they qualify before making such a claim.
When it comes to working with suppliers, manufacturers should ensure they have documentation of the supply chain. Finding out that a domestic materials claim isn't verifiable could be a costly mistake for a company to make. The legal alert noted that claims with qualifiers, perhaps specifying that materials are not domestic but the product was assembled in the U.S., tend to pass FTC muster - as long as they're true and can be supported.
Product Labeling on High Alert
When there are potential labeling rule changes in the pipeline - and these days there seemingly always are - it pays to have a responsive and agile product labeling partner. Lightning Labels, with its all-digital processes and domestic facilities, is able to turn orders around in days, not weeks or months. This is the kind of company you need in your corner.
Request your FREE instant quote today.