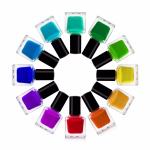 Creating cosmetics means building rapport between your brand and your customers. To make your products part of their beauty routine, shoppers will have to feel a strong connection with your brand.
How do you build such a relationship? It helps to ensure all your advertising, marketing and branding materials are consistent and compelling. Makeup bottle labels are an essential part of this process, because customers see them at the critical moment of purchase.
When it's time to design custom labels for a new cosmetic product line or redesign the packaging for existing items, every decision matters. From your choice of label size and shape to selecting a color palette, you have numerous opportunities to show a strong, harmonious design sensibility. In turn, this can win over shoppers.
Makeup Bottle Label Musts
Before getting to the more subjective (and exciting) parts of makeup label design, it's time to check in with the Food and Drug Administration's rules. Ensuring compliance is a vital step to launching a cosmetics product line because fines and penalties for labeling mistakes could severely damage your brand's competitiveness.
FDA regulations around cosmetics and makeup include a definition of what exactly the agency means by "cosmetic." In short, this is an item other than soap meant for cleaning, beautification or modifying someone's appearance. If a product is also meant to prevent diseases or change the way the body functions, it is a drug, with an extra set of regulatory approvals to apply for.
In the case of pure cosmetics, the FDA has a few rules to follow, notably including:
Truth in labeling: Cosmetics must state the manufacturer, packer or distributor's name and address, as well as the net quantity of contents.
Safe use information: The label should explain how the item is intended to be used, as well as how to avoid health risk when applying it.
Warnings and cautions: If there are any health hazards associated with a product, those have to be noted on the package in text at least 1/16 of an inch high.
Ingredient listing: Ingredients must be disclosed, unless they are officially recognized "flavor, fragrance and trade secret" substances.
As a cosmetic manufacturer, it's up to you to check the FDA's required packaging label elements for your type of item, especially when it comes to warnings. Even in cases when new cosmetics have not yet had their safety levels adequately proven, that fact has to be noted on the label, through a statement that says "Warning--The safety of this product has not been determined."
Labeling compliance is essential to get cosmetic products onto store shelves — but then, what will make people excited to pick those items? This is where the next step of the labeling process comes in, namely graphic design.
Great-Looking Makeup Bottle Labels
Makeup labels are often small, and frequently stored in moist environments, where they may encounter water and other liquids. How can you transform this limited space into a rich canvas to attract customers' attention? Through careful cosmetic label design, and without wasting any elements.
The choice to try a particular makeup brand for the first time can come down to product packaging and cosmetic label design. If your items express a consistent and aesthetically appealing brand identity, that could represent a major advantage over competitors with a less fully developed sense of label design.
In 99 Designs' guide to cosmetic labeling, design experts pointed out a few of the trends companies are using to present their items in the best possible light, including:
Text art: If you choose a unique font or color for your text — or make it stand out through a technique such as foil stamping or embossing — it can be just as, if not more, impactful as a photo.
Black as a base color: Should cosmetics have a light, soft color palette? In some cases, that's the right move. In others, especially when a brand is aiming for an edgy, modern look, a pure black backdrop may be better. A smooth matte or gloss treatment can act as the finishing touch for a black label.
Minimalism vs. patterns: Some brands are stripping their makeup labels down to almost nothing, using pleasant-colored negative space instead. Others have decided to keep the customer's eye engaged with busy patterns. What's the better approach for you? Whichever one fits your overall vision for your brand.
When you're finishing off your makeup bottle label, you have options that reach beyond graphic design. You can use die-cutting to get cosmetics labels in the exact size and shape you need, fitting them perfectly onto a makeup bottle of any size. You can also use a see-through polymer to offer a glimpse of the packaging underneath, which is a good choice when the bottle has a pleasing hue.
One point to keep in mind is the importance of tough, water-resistant custom cosmetic labels. You can expect your cosmetics will be stored in customers' bathrooms, which means they'll encounter plenty of moisture. You should choose bottle label materials and finishing treatments with longevity in mind, so the labels look good day after day.
Cosmetic Label Design: Collaborative or In-House?
Label design for your cosmetic products is too important to leave any element up to chance. Fortunately, you have options when it's time to finalize your design. When you work with Lightning Labels as your label printing partner, you can collaborate with graphic design experts to create labels that meet the technical and regulatory requirements necessary — all while looking great.
It can be worthwhile to consult an expert whether you're tweaking a single detail of an existing design, or getting ready to launch a whole new product line. Ideally, the custom cosmetic label design you select will serve you for years to come, so every design decision will matter for the long term.
Printing Your Custom Makeup Bottle Labels
Working with a trusted label printing partner such as Lightning Labels is a way to ensure your custom cosmetic labels meet customers' standards for quality and arrive on time. This is true whether you need 50 labels or thousands.
With over two decades of custom label experience, Lightning Labels has helped numerous companies in the cosmetic industry and beyond create custom printed labels that catch shoppers' eyes and turn curious consumers into repeat customers.
Request a free quote today to get started.