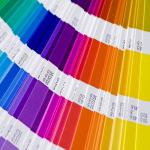 Your brand only has a few opportunities to reach customers with imagery and messaging, and they're all important. Paid advertising and content marketing are key tactics while people are browsing from home, but what about the critical decision point when a shopper is in a store, ready to make a purchase? In that fleeting moment, product labels have a major role to play.
Your product label design should give shoppers a strong impression about what your product is and what your brand stands for — all without overloading them with too much information. Due to the ongoing importance of visually-interesting product labels and stickers, it's worth giving some extra thought to the label design process.
Whether you're launching a new item or refining your product packaging, designing labels in-house or working with a partner, there are a few principles to follow to create a top-notch custom label design.
Creating a Product Label Design that Suits Your Brand
The first rule of visual design for product labels is to select the right identity for your brand. This means there is no 100% effective strategy that will work for every brand. Every choice, from color palette to label material and finish, should suit the unique personality of your company and product.
Some businesses are built around brash, rule-breaking energy. This is a common attitude in spaces such as craft brewing, where companies often pack their custom labels with as much color, artwork and attitude as possible.
Alternatively, there are product categories based on restraint. When creating wholesome, organic food packaging, for instance, companies are apt to design straightforward labels that reassure customers the products are fresh and simple. The tone of these labels gives a subconscious hint as to the nature of the items.
With that said, the best way to reach customers may be to break the mold. Creating a radically simple craft beer can design could be an eye-catching move in a field defined by busy style techniques. The prime mission is to be true to what your customers want and expect, giving an accurate and positive impression of your product.
Combining All the Elements of A Great Product Label Design
Choosing compelling imagery and text for your labels is at the heart of great product label design. Truly effective product labeling, however, will also encompass your choice of label material and finishing treatment, as well as the size and shape of each custom label.
Giving customers a completely unified experience should be a high-priority goal when making design decisions. What kinds of options do you have when customizing product labels to achieve this objective? Consider the following:
Imagery: Some brands are best served by photos, whether that means a picture of the product, a brand mascot, a local landmark or another compelling image. Alternately, line art is a way to convey a cartoonish or old-fashioned brand identity, while some brands are best served by patterns or solid-color backdrops.
Text: There are some text features that are absolutely required — quantity, ingredients, contact information and more. Beyond these musts, designers must pick fonts and text sizes for the brand name, product description and any additional information, such as recipes or company history. Text should be large and legible, and not so busy that it will drive customers' eyes away.
Size and shape: With die-cutting, you can create labels in any size and shape imaginable. A label significantly smaller than the package can draw the eye to the color of the product, while an interestingly shaped label can highlight a brand logo or imagery.
Material and finish: Label materials and finishing treatments can say a lot about products. A rough, papery material can give an earthy and green feel, especially if the material is recycled or otherwise eco-friendly. On the other hand, a slick polymer label with a gloss or matte label is a perfect complement for a cool, modern brand.
Foil stamping and embossing: Hot foil stamping can add a shine to labels, whether gold, silver or another color of foil. This is perfect for premium items or special editions. Embossing creates raised details on labels, which makes packages more compelling to pick up and touch.
Colors: A well-chosen color palette can be the finishing touch on a label design. Limited colors are perfect for labels that are aiming for a simplified or old-fashioned look, while full-color photos can make the product underneath look lively and exciting. Companies that offer multiple flavors or varieties could vary the colors for each, while maintaining a consistent and memorable logo.
Creating the perfect label for your brand is all about harmonizing the various components of design, so shoppers will understand immediately what your company is offering.
Collaborating with Experts to Design Your New Product Labels
Not every company has an internal graphic design team capable of creating a consistent and effective label design. In these cases, it pays to work with a third-party team, because label design is too important to leave to chance. A successful product label design process will give your brand a compelling selling point in stores, and that's worth investing in.
When choosing a label design partner, you don't have to look far — work with the same business for both graphic design and label printing services. This is where an experienced third party such as Lightning Labels can truly prove its worth.
Lightning Labels has over two decades of experience bringing companies' product packaging design goals to life. The graphic design experts at Lightning Labels are capable of performing meaningful updates and changes to existing logos or consulting on entirely new product label design work. Your brand identity is at the center of every design effort — from the simplest to the most complex.
Once you've landed on a new label design, internally or with third-party assistance, Lightning Labels can print your custom labels quickly and affordably, whether you need 50 labels or thousands. High-quality, all-digital printing processes enable fast turnarounds and flexible order sizes, and industry-leading customer service will keep the process on track.
Request a free quote today and take the next step toward a fresh, bold product label design.