Be Clear in Labeling Lotion Bottles
[caption id="attachment_8198" align="alignleft" width="299"]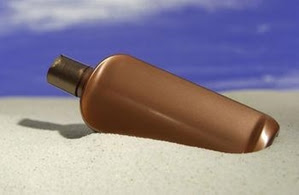 Ingredients are an important consideration when labeling lotion bottles.[/caption]
When labeling lotion bottles, being as transparent as possible will help you gain customer loyalty. Consumers are becoming increasingly conscious of what components go into the products they are purchasing.
Not all companies can make their lotions all-natural, but being upfront about ingredients can help put customers at ease. Custom lotion labels should be an informational resource for shoppers.
Lotion Label Design Ideas to Help Highlight Ingredients
If you're looking for lotion label design ideas, consider indicating what ingredients are for and making this section prominent. The most attention-grabbing aspect of the bottle should be the brand name, followed by the purpose of the lotion. Is it an aftershave, body or hand lotion? The ingredients should take up most of the space on the bottle that's not devoted to branding information. Listing ingredients in large text helps to communicate that you do not wish to hide anything from consumers. Putting this information in small print can make companies appear deceitful. If natural ingredients are a main selling point for your brand, feel free to spotlight this information. If an ingredient looks questionable - for instance, if it is long and hard to pronounce, it may be a good idea to explain what it is. Phenoxyethanol is an off-putting word, but this ingredient is used as a preservative to prevent the growth of yeast, bacteria and mold, according to The Honest Company, a producer of products for babies. Customers will appreciate being educated on the purpose of strange-sounding ingredients.
Use Lotion Bottle Stickers to Inform Shoppers
Implement an informational campaign on lotion bottle stickers. You can demonstrate openness about your brand by providing details about different ingredients on various products. This strategy could also demonstrate thought leadership qualities, meaning you won't just be providing a body product, but a helpful service as well. Whenever customers buy a new bottle of lotion, they can learn about a different ingredient used in the product. It's also a good idea to provide some educational resources online that customers can peruse at their leisure. Indicate on the label that consumers can visit your company website to learn more about what goes into your products.
Emphasize Natural Colors
The use of color in bath and beauty product labeling can also send a message about the product. Very bright colors that could only be achieved with dyes may communicate that a product uses synthetic materials. Most best-selling lotions use muted colors on their packaging. Cream, white, off-white and tan are the most often used tones in lotion labeling. These indicate naturally-derived substances, like shea or coconut butter, and enhance the image to support the ingredients used in the formulation.
Request your FREE instant quote today.