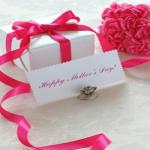 Custom Prime Labels Make Your Products Stand Out
It's almost time for dutiful daughters and sons to find nice gifts and celebrate all their mothers have done for them over the years: Mother's Day is almost here. If you think your brand's products would fit that niche and serve as great Mother's Day presents, it's time to say so through prime labels that catch buyers' eyes.
Label redesigns don't have to directly center around Mother's Day or mention the holiday. It could just be a good time to revamp the labels on items people may be picking up for their moms, ensuring that when they walk the aisles, your brand's options will stand out from the pack and become clear choices. Everything from candles to perfume and a whole host of bath and body products can receive a new look, and just in time: This year, Mother's Day is May 14.
Beauty Products
No matter what kind of beauty products your brand offers - from soap to makeup or anything in between - you can go for an exciting new look with prime labels. Custom lotion labels, perhaps using an enticing spring color palate, can promote the benefits of your brand and add a classy look to the products. If your bath and body product labels look sophisticated and elegant, they'll make better gifts than equivalent products with more straightforward or medical tone to their packaging.
Candles
A house gains a touch of comfort when it's illuminated with candles. Candles carrying unique scents can become great accents for a room - and good gift items if you present them in the right labels. Labels for candles have to be up to industry standards, carrying required warnings and standing up to heat. As long as you carefully meet all the criteria, however, updating to aesthetically pleasing new prime labels can be a difference-maker for candle sales.
Perfume
A classic gift item, perfume makes its name on elegance and class. Your choice of labels can ensure your brand stands out, even among tough competition. Choice of material and finish could play a major role in the design process for perfume. Metallic hues are especially compelling here, playing up the exclusivity of the product. Of course, these labels should be water- and oil-resistant so they won't fade, even if the perfume bottle they're covering is stored in a bathroom cabinet.
Time for Labeling
If you want to get your new labels on shelves in a hurry, in time to catch the eye of Mother's Day shoppers this year instead of next, you need a partner quick enough to make this happen. That's where Lightning Labels, using all-digital printing processes and operating from domestic facilities, has a major advantage against slower competitors. When you need labels for beauty products and don't want to wait months, calling Lightning Labels is a critical choice.
With a host of materials and finishes available and a long history of helping brands make their items look great on shelves, Lightning Labels is the third party to call to prepare for Mother's Day. Before you know it, the May 14 will be here. Then, it will be time to think about items for other holidays. Lightning Labels can help there, too.
Request your FREE instant quote today.