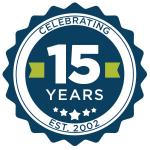 There's Never Been a Better Time to Revise Your Labeling Strategy
Whether people interact with your products on store shelves or browse through pictures of them online, the custom labels you employ will set those consumers' expectations. Packaging gives your brand a face and enables you to set your items apart from competitors' offerings. If you're looking for a third party to help your products look their best, Lightning Labels is on your side. This month is the company's 15th anniversary, and it's made it this far by embracing technology and customer service. When you design new labels for printing, Lightning Labels should be the first name you think of.
The Secret to Lasting 15 Years
In the competitive labeling space, companies don't stay relevant for 15 years by accident. Lightning Labels has made it to this milestone year and beyond by delivering a careful mixture of advanced technology and spot-on customer service. Being an expert labeling partner means tending to the needs of customers' campaigns, whatever unique circumstances those firms are dealing with. You'll find Lightning Labels can deliver this kind of flexibility, embodied in the following characteristics:
Wide Variety of Materials and Finishes: How your labels look comes down to a number of factors, not just the imagery you print on them. Lightning Labels' all-digital process works with a variety of materials and finishes, each of which adds character to the finished product. If you're interested in recycled labels that give a rustic look while reaffirming your environmental bona fides, you can have that. If your items are better suited to shimmering metallic labels that proclaim their classiness, that's an option too.
Low Minimum Orders and Fast Turnaround Times: Whether you're responding to industry regulations or simply switching one promotion for another, changing up labels often is a common decision. This becomes easier when you work with an all-digital printer such as Lightning Labels - no expensive plate-creation process means affordable prices and low minimum order sizes. Your labels are then dispatched from a domestic facility instead of an outsourced location, getting them in your hands quickly.
Hands-on Customer Service: Striking up a long-term relationship between a label provider and a client creates peace of mind for everyone. If you know where your next batch of labels is coming from, you can set the wheels in motion quickly and efficiently. Lightning Labels makes it easy and pleasant for customers to stick around with attentive service and care. Good bonds with clients have kept Lightning Labels strong for 15 years and counting.
Branding Is Not Optional
When your products face the world, it helps to have prime labels that reflect the quality of the items themselves. For 15 years, Lightning Labels has provided visual excitement for companies of all kinds. There's never been a better time to join this group of satisfied customers and revolutionize the look of your product line. Having a trusted custom label printer in your corner means being able to set your image with precision, presenting your items to consumers in an ideal setting that maximizes their appeal.