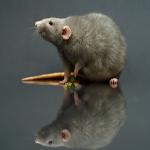 Chinese Officials Investigate Issues with Labels of Food Products
Horse meat was recently discovered in beef-labeled meat within the United Kingdom, and now labels of food products are under scrutiny in China. According to BBC News China, hundreds of people have been arrested within the country for selling fake or tainted meat, which is only the latest part of rising concerns among Chinese citizens about food safety.
Report Uncovers Fake Food Sticker Labels
The news source reports the investigation found more than 20,000 tons of fake meat with food sticker labels designating it as mutton. More than 900 people have been taken into official custody for creating fake meat out of foxes, mink and rats after adding chemicals.
According to Reuters, a few of the arrested suspects were part of a crime ring that sold more than $1 million in rat and small mammal meat labeled as mutton.
Chinese citizens are beginning to worry about the safety of the nation's food supply, as rotting pork was found in one of Shanghai's main water sources in March, followed by an avian flu outbreak from tainted chicken.
Request your FREE instant quote today.