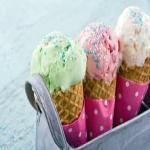 Promote Your Ice Cream Products with Custom Labels This Summer
Ice cream hardly needs a month to promote itself - it remains one of the iconic tastes of summer around the world. That said, every year it gets an extra push from the International Dairy Foods Association's National Ice Cream Month. Throughout July, customers and sellers alike will come together to celebrate their favorite frosty treats. How can you get in on this delicious event and use it to promote your products? One promising answer is to use custom ice cream labels. These can raise awareness of the month's theme while getting browsing customers hungry for ice cream.
Time For A Promotional Push
What kind of initiatives do you have planned for National Ice Cream Month? Whether you run a manufacturing operation, retail outlet or eatery, the event is a great chance to give frozen treats an extra push. Maybe a custom flavor of ice cream would be to customers' tastes, giving them a limited-time incentive to take part in the festivities. Good labeling can draw the eye to a special flavor, containing a reminder that this is National Ice Cream Month and now is the time to indulge.
While ice cream may seem to be a product that needs little advertising - its deliciousness speaks for itself - customers won over during the theme month can become loyal shoppers for years to come. This means that manufacturers and sellers will want to make extra promotional efforts during July, with specialized packaging making a sale happen and the quality of the product drawing the buyer back for more in August and beyond.
Companies should engage in these strategies no matter what their competitors do. If other brands skip National Ice Cream Month, those that do engage will stand out more. If those rivals do launch specialized campaigns for the event, brands that don't follow along may become far less visible by comparison. When there is a chance to tie into a national celebration of a signature product, manufacturers and sellers should take it.
Durable Labels Needed
Of course, promoting ice cream adds a little wrinkle to the process - standard labels won't last long on frozen cartons stored in cold temperatures. This is where custom durable labels prove their worth, providing the same eye-catching appeal without peeling off or dissolving in the tough conditions inside a freezer case. When the entire purpose of a month is to promote and sell ice cream, there is really no other option: Either brands turn to customized durable labels or, more than likely, they'll end up with disappointing results.
When selecting a partner for National Ice Cream Month, manufacturers and retailers should consider Lightning Labels. Sporting a lineup of useful and appealing label materials that can work on a huge variety of surfaces, including cold freezers, Lightning Labels also lives up to its name with lightning-fast turnaround times. July has already begun, meaning leaders will have to take action right away - and with a quick, responsive partner - if they want to maximize their engagement with the event.
Request your FREE instant quote today.