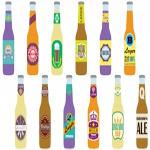 Draw Eyes To Limited Beer Releases With Custom Bottle Labels
There's nothing better on a hot summer day than a cold, refreshing beer. If your beer brand is serious about capturing the summertime market, chances are you have limited edition and seasonal products ready to catch consumers' eyes and drum up extra business in this ideal season. There is a limited window to make these short-run brews into successes, which means you should pursue every available strategy to ensure they are memorable and appealing to the public.
It's important for summer beers to look the part, with attractive custom beer bottle labels that convey both a brand identity and the essence of the season. The process of selecting and printing custom beer bottle labels will be a major turning point for your brand. If you combine great imagery and high-quality printing, consumers will find your brews irresistible, even surrounded by many other breweries' summer offerings. A bad design or poor production, on the other hand, could scuttle the appeal of the limited release.
Taking Barbecue Season by Storm
Craft beer labels need to be tough to hold up through the summer. From refrigerated cases in stores to the hot sun, then into a cooler, then back out into the heat - beer bottles go through plenty of environments on their way to a simple cookout. If your brand goes with lesser labels, wear and tear could set in. The key to winning eyes with a customized product label is to ensure it stands out throughout its entire life, from when it is shipped out to its fate in a recycling bin.
When a label is both tough and appealing to the eye, it will act as a great piece of advertising, attracting curious buyers in stores and at parties. The imagery should be tied into the summer, to win over those who are looking for seasonal refreshment. They should also contain a heavy dose of branding, to ensure that customers draw positive associations over the course of the summer and are ready to seek out your next seasonal brew in autumn - wrapped in its own custom label, of course.
No Time To Lose
The summer is in full swing - if you want to print custom beer bottle labels and draw eyes to a specialty brew, now's the time. While the fall's pumpkin bonanza and spiced winter offerings are great opportunities for craft breweries, it's best not to let summer pass you by. The synergy between warm temperatures and cool beer can't be denied, meaning the audience for your products is ready and willing to try them right now.
When it comes to capitalizing on seasonal promotion chances, it's wise to work with a specialist partner such as Lightning Labels. True to its name, this is a lightning-fast company that can turn your great branding into a durable set of beer labels in a very short time. The summer days are getting shorter, and there's no time to waste - capture the attention with your audience, and you can carry these new customers with you as the fall begins, and even beyond.
Request your FREE instant quote today.